Overwatch Cross-Platform Play Might Happen In The Future, According To Blizzard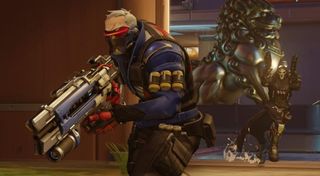 Cross-platform compatibility has become a rather frequent talking point amongst PC gamers, PlayStation gamers, and especially Xbox gamers. While Blizzard nixed the idea of PC and console cross-compatibility, they haven't ruled out console cross-platform compatibility.
Gamespot spotted a tweet from the official Overwatch account on Twitter where they mentioned that console cross-platform play could be possible in the future.
The Gamespot article notes that in the past Blizzard opted out of pursuing cross-platform play between PC gamers and console gamers in Overwatch because PC gamers would have a clear advantage thanks to the keyboard and mouse.
It's true that you get far better precision from the mouse than you would from the right analog stick. In a game like Shadowrun for the Xbox 360 and Windows Vista, there was the problem that Microsoft attempted to overcompensate for the differences between keyboard and mouse players and those using controllers, and all it did was create an imbalance one way or the other.
Even more than that is the fact that there's not quite a peripheral available on consoles to help grant them leverage with battling other players using a mouse. Something like the Steam Controller would have been a perfect compensation between controller and mouse, given that you can use the right haptic pad like a touchpad for 1:1 response timing. However, there's nothing quite like the Steam Controller for consoles, so there's just always going to be a clear advantage for PC players in a game like Overwatch, where 60fps gameplay and extremely fast input latency are key for victory.
Due to the difference in controls, Blizzard decided to not make it possible for PC players to play with PS4 or Xbox One owners.
But what about PS4 and Xbox One owners playing against each other in Overwatch? Well, that would be a much fairer comparison. According to Blizzard's tweet above it's a possibility but it all comes down to the console manufacturers and the politics surrounding their networks.
As pointed out by Gamespot, Microsoft has already extended a hand in wanting to bridge together Xbox and PlayStation users, with Xbox Live finally opening up for cross-platform compatibility. Psyonix wanted to take advantage of this with Rocket League but Sony hasn't given them the go-ahead to make playability between the Xbox One and PS4 a possibility.
Given the popularity of Overwatch and how big Blizzard is, I wonder if they'll have better luck convincing Sony to embrace cross-platform compatibility between the PS4 and Xbox One?
Staff Writer at CinemaBlend.