PS4 Is Becoming Keyboard And Mouse Compatible Because Sony Won't Be Outdone By Xbox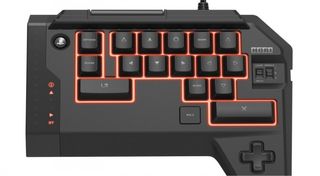 The PlayStation 4 will be receiving a keyboard and mouse soon. How soon? How about this fall? Game peripheral maker Hori has announced that they will be releasing a new keyboard and mouse solution for the PS3 and PS4 this October.
According to a report from VG247, the the Hori Tactical Assault Commander is a keyboard and mouse solution for Sony's latest home console. It allows gamers to get the mechanical response timing from a keyboard without ghosting, while also opening up the precision offered by the wrist-flicking action of a high-DPI gaming mouse.
The combination seems similar to other solutions already available on PC from companies like Logitech and Split-Fish. However, in this case, Hori is coming off their excellent run of making racing wheel peripherals and fightsticks, so the next evolution of their gaming hardware focus being on a keyboard and mouse for the PS4 makes plenty of sense. They've already conquered the racing wheel, controller and LCD portable monitor waters.
For PC gamers this isn't much of anything new given that there are already devices like the Mad Catz Strike 7 Gaming Keyboard, but for home consoles this opens up the competitive field in all new directions. At the moment, Microsoft doesn't actually have a keyboard and mouse solution for the Xbox One, but they are working on one.
According to Phil Spencer, they want to enable PC to Xbox streaming, allowing PC gamers to stream their games to the Xbox One. Users noted that in order for this to work the Xbox One would need proper keyboard and mouse support. And while USB devices can be plugged into the Xbox One, none of the software supports usage of those devices... yet. Spencer wants to get something up and running, presumably by this fall.
If Microsoft can get a handle on the keyboard and mouse support, and allow for PC to Xbox streaming via Windows 10, they could have a very strong presence this fall during the holiday season to accompany the backwards compatibility feature for the Xbox One.
Sony, however, appears to want to beat them to the punch.
Unlike Microsoft and the Xbox One, Sony doesn't have a stringent licensing policy for peripheral manufacturers to become licensed under them in order to make gear for the PS4. This enables companies like Hori to make all sorts of gadgets and pump them out in a timely manner. Microsoft – during the Mattrick-era policies – had it mandated that third-party peripheral manufacturers had to become licensed distributors under Microsoft to make hardware for the Xbox One. This greatly limited the amount of third-party controllers, accessories and charging devices for the Xbox One.
However, Phil Spencer and the team have been working hard to turnover a lot of those Mattrick-era policies and we'll see if they get rid the third-party licensing policy now that Sony is getting native keyboard and mouse support for their games. Hori's Tactical Assault Commander is due for release on October 9th in the U.K., for £86.35. There are still some details missing on the product but I imagine Hori will begin rolling them out as the release date draws near.
Staff Writer at CinemaBlend.
Your Daily Blend of Entertainment News
Thank you for signing up to CinemaBlend. You will receive a verification email shortly.
There was a problem. Please refresh the page and try again.