PS4's Project Morpheus Now Has A Much Better Name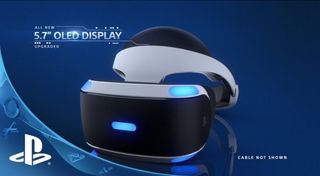 The PlayStation virtual reality head device that has tentatively been named Project Morpheus has just received its official name: PlayStation VR. It's a fitting name for the device if not a bit too expected. The announcement was made during the live press conference at this year's Tokyo Game Show.
Gematsu reported on the news as it was happening, grabbing some choice quotes from Masayasu Ito, EVP, the division president of PlayStation product business and vice president of the software design division, who mentioned during the conference...
Project Morpheus sounded like a placeholder name through and through. It's nice to know that Sony decided to go with something a bit more relative to the PlayStation brand at the end of the day. It's interesting because PlayStation VR sounds kind of mundane compared to what it could have been called, but at the end of the day if this is a device planned to last for a while as a long-term endeavor, it makes sense.
The likelihood is that the PS VR could be a cross-generational device, making its way from the PlayStation 4 to the PlayStation 5. That would be an ideal situation for Sony because you could keep the same headgear but evolve the gaming or entertainment experience with new console or streaming devices. Keeping the name basic like PlayStation VR gives it an iteratively agnostic position in the world of technology, so even if there's a PlayStation 6 or 7 something like PlayStation VR still sounds relevant.
Gematsu also notes that there are various virtual reality demos that are on display at this year's Tokyo Game Show, including recognized names like Hatsune Miku and Dynasty Warriors 8.
Sony is starting to show a seriousness about their dive into the virtual reality game, and that's likely marked by the concrete steps that companies like HTC and Valve as well as Facebook have taken to cement their own legacy in the VR game with products like the Vive and the upcoming release of the Oculus Rift.
The VR game still seems relatively niche and like a technological novelty within the gaming and entertainment sphere, but with legitimate steps being taken to get more software support out there for virtual reality devices, and with Steam having a very sizable and growing library of games that support devices like the Oculus Rift devkit and the HTC Vive, it's quite obvious that whether console makers want to get in on the virtual reality gig or not that PC gaming is going full steam ahead with it.
Sony has double-downed with the device formerly known as Project Morpheus by showing more demos and getting a serious name attached to their device for an early 2016 launch. It's looking as if there will be a showdown between Valve and Sony when it comes to VR software support and that could be where the next big untapped market lies. Regardless of who gets out of the gate first, we least know that Sony is fully behind the PlayStation VR.
Staff Writer at CinemaBlend.
Your Daily Blend of Entertainment News
Thank you for signing up to CinemaBlend. You will receive a verification email shortly.
There was a problem. Please refresh the page and try again.