Painkiller: Redemption Gets Release Date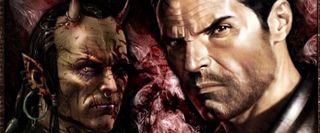 DreamCatcher Games and JoWooD Entertainment are on the verge of releasing Painkiller: Redemption. Today they announced a February 25th launch date for the standalone expansion.
In Redemption, an army from Hell is on the march against Heaven. It's up to Daniel and Belial, the protagonists from previous Painkiller games, to stop them. Both characters are playable.
The expansion's campaign promises 7-10 hours of gameplay. There are over 6,000 enemies for you to slay across six maps. A new map editor will allow you to create your own battles and add some replay value to the game.
Staff Writer at CinemaBlend.
Your Daily Blend of Entertainment News
Thank you for signing up to CinemaBlend. You will receive a verification email shortly.
There was a problem. Please refresh the page and try again.