Pandora Saga: Age Of Discord Open Beta Launches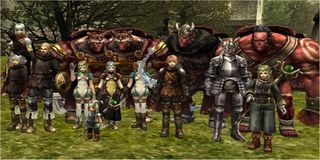 For those looking for a new MMORPG to add to their lineup, or perhaps a good place to jump in on the ground floor of one of the latest genre offerings, you might want to check out Pandora Saga: Age of Discord, formerly known as Weapons of Balance. Its open beta is finally up and running, offering players a combat-heavy experience with a fresh coat of shine and new features thrown in for good measure.
Coming from Marvelous USA, the official beta launch announcement states that the publisher will continue to keep players busy with "regular and significant content updates."
"We are excited to announce plans to ramp up efforts to bring more exciting new content to the upcoming open beta for Pandora Saga: Age of Discord players," said Marvelous USA President and CEO, Shinichi Suzuki. "With the Astian Battle Arena, our first round of updates will focus on new content for PvP fans. But we have much more in store for players who enjoy other solo, group, Nation battle and PvE content. We can't wait to tell you more soon."
So what's this Astian Battle Arena all about, then? Well, it turns out it's a 48-player all-out melee, pitting players against one another in order to gain fame and fortune. Everyone gears up, then heads into the fray to prove their move set and strategy is the best in the realm. For those used to simply battling one-on-one in other MMOs, this contest that's nearly 50-members strong should be an interesting change of pace.
For those unfamiliar with the original Pandora Saga, and if that new massive PvP battle didn't give it away, the game is set in a war-torn world struggling to thrive in the fallout of "the Great Catastrophe."
"Players pledge their allegiance to one of three nations vying for power and control, the Kingdom of St. Pfelstein, the Latugan Empire and the Varik Confederation," reads the Age of Discord open beta announcement. "Powerful enemies and allies await those who seek to bring peace and balance to the fractured world."
And there's no better way to bring peace and balance than massive warfare, right? Along with the Astian Battle Arena, this new launch includes an increased level cap up to 60, along with new high-level skills and abilities to help players battle their way through those higher tiers.
New tooltips and an improved user interface is also in the works, which should be a big help for newcomers and veterans alike. Customizations enhancements are also on the horizon, allowing players to adjust their existing toons and even alter equipment mods.
So we've got a free-to-play MMO, with heavy focus on combat, and brand new content coming down the pipeline. If that sounds like your idea of a good time, then head on over to the Pandora Saga: Age of Discord official site and get to playing the game.
Staff Writer for CinemaBlend.
Your Daily Blend of Entertainment News
Thank you for signing up to CinemaBlend. You will receive a verification email shortly.
There was a problem. Please refresh the page and try again.