Payday 2 Safe House Customization Inbound, Mod Workshop Integration Possible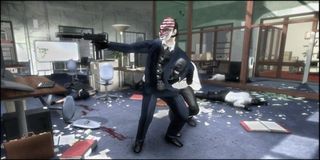 Overkill Software already has a hit on their hands with Payday 2. The game turned a profit on pre-orders alone before it even released and a ton of people are now experiencing the new heist game for all its glory when it released digitally earlier this week and at retail today. Following up on all the positive gamer and reviewer feedback, Overkill Software recently revealed that they have a year's worth of DLC planned and that safe house customization will be inbound soon, along with the team looking at the possible integration of Steam Workshop support for mods.
Joystiq picked up the quotes from the creative lead, David Goldfarb, as he talked about plans for Payday 2's future. The creative director stated that...
I have to be honest. There is fear in my heart.
You see, whenever a developer talks DLC and plans they have for it in conjunction with the publisher, I always think "DLC ravage train, all aboard!"
However, Overkill isn't like a lot of the other studios out there who make AAA games under blood-sucking publishers and then after the initial $60 they have $100 worth of content to milk out of gamers, sometimes with stuff already on the disc.
The team at Overkill have been very gracious with their fans and many fans have shown a lot of support toward the developers as they aimed to craft a very sound and fun heist title. The sequel is everything anyone could have wanted out of the original Payday, along with additional fixes, skills, weapons and tons more. Payday 2, from the little I've played, does just about everything right. In addition to this, 505 Games are pretty honest when it comes to their offerings, so five new DLC packages coming out for Payday 2 are DLC packages I trust will be done right by good developers and a fairly trustworthy publisher.
Overkill also aims to assuage any fears of misdoings by announcing that the safe house customization will be inbound soon and it will be free. The team also has some additional fixes and whatnot inbound to address any of the other problems the game faces with David commenting that...
Goldfarb is also looking to extend the life-expectancy of Payday 2 with mods. This here is what I believe could be the single greatest thing to help prolong the life of this title if they just follow through. According to Goldfarb...
Joystiq didn't end it all there... oh no, they went for the gold and some brownies, too. In regards to crossover content, the lead creative director didn't rule out that Payday 2 might crossover with other titles just the way they did with the original Payday: The Heist and Left 4 Dead.
If you're looking for a prime-time heist-thriller, you can pick up Payday 2 right now from your local retailer or digitally for home consoles and PC. The game is a blast so far and I'm certainly looking forward to playing more of it.
Staff Writer at CinemaBlend.
Your Daily Blend of Entertainment News
Thank you for signing up to CinemaBlend. You will receive a verification email shortly.
There was a problem. Please refresh the page and try again.