Bloodborne Multiplayer Sounds A Lot Like Dark Souls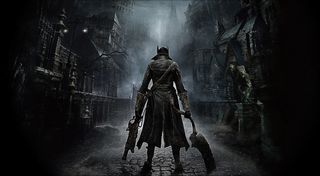 Some of the details on the Bloodborne multiplayer have been revealed, giving players a very exposed look at what the modes and features will be like when invading games, being invaded and grouping together to fight bosses.
Gematsu was tipped off to the multiplayer features for From Software's upcoming third-person hack-and-slash RPG.
Up to four players will be able to team together to fight each of the game's bosses. A lobby is created using the "Hunter Calling Bell" or the "Resonate Bell" to host or join a game before a boss fight. If you don't want to get teamed up with scrubs, you can set a password so you can only battle the bosses in Bloodborne with friends or trusted hunters.
There's also a PvP mode for players who simply want to invade games or have their game invaded and duke it out with rival hunters to test out their might. For this, players can use the "Ominous Resonate Bell" to invade a host's game, but only when a Bell Chiming Woman is nearby. Even co-op games can be invaded by pesky PvP'ers, so keep your eyes peeled for hunters with nefarious intentions. A player who invades a host's game with the intention of killing him will be rewarded for doing so. The invader will exit the session once the host is killed or if the host manages to defend against the attack and kill the invader instead.
The asynchronous multiplayer feature allows you to leave hints and tips throughout the game world, as well as the grave stones where players died. It's noted this is similar to Dark Souls, and players can click on the graves to see how that player died. In a way, it's a bit of a help-me-out to give you some tips and hints on what not to do and how not to die when you get to that point.
Additionally, there's a Chalice Dungeon mode that allows players to participate in online or offline dungeon crawling. This Bloodborne mode can be played in a normal mode or a random dungeon generation mode. The random dungeon mode will require players to log online to download the appropriate data to procedurally generate the dungeon data.
The final bit of news is that if you want to play online with other people you'll need to have a PlayStation Plus subscription. That's right, paid-for, premium multiplayer. If you come from the Dark Souls arena on the PS3 where you got to interact with other human beings from around the world, for free, then you're likely sorely disappointed that you'll have to pay for multiplayer this time around. Xbox owners are like "Welcome to the club, what took you so long?". PC gamers and Nintendonites are like like "LOL... you pay to play online? ROFL"
On the upside, you don't need PlayStation Plus to receive the day-one patch (or any of the subsequent game patches) nor will you need PlayStation Plus to partake in the randomly generated dungeons from the Chalice Dungeon mode in Bloodborne.
You can look for Bloodborne to launch for the PS4 starting March 24th in North America, March 26th in Japan and March 27th in Europe. For more information on the game be sure to pay a visit to the official website.
Staff Writer at CinemaBlend.
Your Daily Blend of Entertainment News
Thank you for signing up to CinemaBlend. You will receive a verification email shortly.
There was a problem. Please refresh the page and try again.