Pre-Order Yakuza 5 And Get All Of The DLC, Too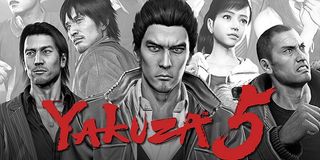 In case you thought there were no new games to get excited about for the PlayStation 3, Yakuza 5 is here to humbly disagree. And as far as definitive editions go, Yakuza 5 is pulling out all of the stops by offering up every piece of DLC, as well as some additional minigames, right out of the box.
Sega's John Hardin recently dropped by the PlayStation Blog to deliver the good news, giving fans a peek at what's to come via the final in a three-part behind the scenes series on the game, as well as some additional details about Yakuza 5's US launch.
As mentioned above, Hardin has confirmed that the US version of Yakuza 5 will come packed with additional content.
"Lesser known about the Western release of Yakuza 5 is that it includes all the Japanese DLC, including Another Drama, which is a series of extensive sub-plots that focus on each protagonist," Hardin explained. "Whether you are training for dance battles, ferrying people around as a taxi driver, or even helping out as a temporary ramen cook, there's a whole world to explore."
And the US version of Yakuza 5 will come packed with even more side distractions to keep you busy, too.
"Head into Club Sega and play some Virtua Fighter 2 with your friends over PSN," Hardin continued. "If you prefer to play something more rhythmic, you can check out Taiko no Tatsujin and drum to the beat of some music."
That second game was an extremely entertaining rhythm game from the PS2 era, which means folks who buy Yakuza 5 will have access to two additional Sega classics from within the game world itself. That's a pretty sweet bonus, indeed.
In case you've never played a Yakuza game, it's very similar to the Grand Theft Auto series or Sleeping Dogs. You take on the roles of five main protagonists involved with a Japanese crime syndicate. When you're not progressing the story, you're free to take on side missions, enjoy a large number of minigames or just cruise around and beat up random folks. Your call.
If that sounds like your idea of a good time, you can pre-order Yakuza 5 on the PlayStation Network right now. Unfortunately, there's no definite launch date attached to that pre-order just yet. All we know is that Sega plans to get the game out by the end of the year.
For some additional details, here's that behind the scenes interview with the developers we mentioned at the top of the article.
Staff Writer for CinemaBlend.
Your Daily Blend of Entertainment News
Thank you for signing up to CinemaBlend. You will receive a verification email shortly.
There was a problem. Please refresh the page and try again.