Sleeping Dogs Spotted For Xbox One, PS4 On Amazon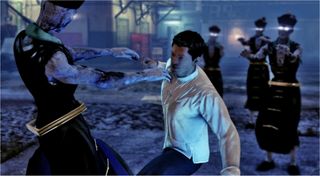 One of the more underrated games from last gen that eventually developed a cult-following and a lot of genial praise from the gaming community was United Front Games' Sleeping Dogs, an open-world action title that worked as a reboot and spiritual successor to the True Crime games. Well, it appears as if Sleeping Dogs could be getting the proper console treatment with a re-release on the Xbox One and PS4 this fall, assuming an Amazon listing isn't just pulling our legs.
Eurogamer spotted the listing, for a second time, which shows a special edition of Sleeping Dogs, the 2012 action title, up and available for purchase on the Xbox One and PlayStation 4. Not only that, but the listing page is completely and entirely fleshed out. There is no placeholder information whatsoever. It even details the pre-order bonuses for those who get in on the deal early.
The release date indicates that the game is arriving during the hectic fall quarter, with an October 14th date as the scheduled day when it becomes available on the eighth generation home consoles from Sony and Microsoft.
Even more than that is a special listing for a 28-page artbook, with the store page stating...
Square Enix may not have announced anything about Sleeping Dogs: Definitive Edition, but the takeaway from the Amazon listing is that it's way too detailed not to be real. Heck, check out the limited edition bundle image:
It's a little hard to deny this at this point. Previously Eurogamer had spotted a listing on ShopTo back in June... but most people probably dismissed it as a retailer error.
It's not uncommon for retailers to make mistakes. Heck, it just recently happened with Halo: The Master Chief Collection being listed on Amazon for PC, and it turns out that it was just a listing error on the retailer's part (or at least, that's what we're being told).
For now it at least looks like Sleeping Dogs is a serious shoe-in for release on the Xbox One and PS4 this fall. It's now just a matter of getting official confirmation from Square Enix, who has, so far, been very tight-lipped about re-releasing the game on the eighth-gen home consoles.
The game follows the exploits of undercover cop Wei Shen. He ventures back to Hong Kong after spending an extended amount of time in America. The game has a heavy focus on Shen trying to find his common ground as an undercover cop and as a rising officer in the ranks of the Triad. The game features open-world exploits such as racing, stealing cars, chasing down bad guys (or outrunning them) as well as busting up crime rings, fighting in underground tournaments and customization Shen to your liking.
The game is currently available for the Xbox 360, PS3 and PC.
Staff Writer at CinemaBlend.
Your Daily Blend of Entertainment News
Thank you for signing up to CinemaBlend. You will receive a verification email shortly.
There was a problem. Please refresh the page and try again.