Project E: Gears Of War MMO-Clone Finally Coming To America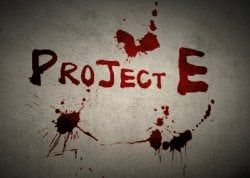 We reported on this game a few months ago. The reaction from gamers was primarily positive, with a lot of gamers wanting to get in on the third-person MMO action game. Well, GameHi has announced today that the Gears of War-clone is coming and the beta testing will begin soon.
Back in October of 2008, we reported on GameHi's super-secretive, South Korean project, code-named Project E. In the clips we had the game showed a striking similarity to Epic's Gears of War play-style, including the overly-muscled characters, weapon-switching mechanics, animations and the post-apocalyptic environments. Not to sound overly excited, but this is probably one of the only MMO games worth playing for the entire year. The gameplay looks sharp and the graphics are superb (for an MMO).
Well, today the company has unveiled the official fact sheet for the game, along with a new video clip of the game. You can check out the extended fact sheet below or you can visit the Official GameHi Website for more info on the game. And be sure to stay tuned in with Blend Games for the exclusive new trailer.
Project E Special Features
• Scenario Mission play (Co-op Play)
Project E is willing to enable users to enjoy the scenario mission co-op, which was only available in console games before, in a perfect online environment with up to 8 players. Users will be able to experience satisfaction, deep emotion, and growth of characters through various scenario missions.
Project E is the first of the FPS/TPS online games to provide missions based on scenarios. This feature is one of the key concepts in console genre, proved by the fact that most of the masterpieces, such as Halo3, Resistance2, Gears of War, Rainbow Six Vegas, Biohazard 5.
• Hardcore Action system
In Project E, users can enjoy cool and fancy actions from other action games, such as backstab and confirmation killing. The game is full of splendid and cruel actions: backstab can let users to approach enemies from the back and kill at once, and confirmation killing allows them to kill weak enemies without failing.
• Fast and diverse PVP (maximum of 16 users)
The PVP of Project E has a structure that will allow various modes, including short and instant matches which previous online FPS games such as Sudden attack have.
• Unique and Gigantic boss monsters
There are boss monsters in co-op mode of Project E. Unlike the boss monsters of other games that are easily hunted down, the boss monsters of Project E are extremely difficult. The entire squad members will have to maximize their efforts and put them together, otherwise the result will be tragic. However, boss monsters, as their difficulty implies, guarantee the best rewards, so it will be one of the ultimate goals of the game play for users, and users will feel the sensation of accomplishment once they succeed.
• Character Growth
Project E is a TPS game, yet users can make and level up their characters. The users can acquire experience points and items through missions, and learn skills to make characters even stronger. Also, collecting, strengthening and creating items will be another form of interest, which will ultimately lead users to have a unique character of their own.
• Straight, Easy separation of army branches
Project E has 5 army branches, each with unique characteristics. The game guides users to play strategically by separating the roles simple and straight.
- Assaulter: Uses shotgun for most of the time, and has skill that can temporally increase defense ability.
- Heavy Artillery: Defensive type that defends important points or corner enemies with
- Gatling gun and machine installations
- Operator: Can support by firing grenade launcher and use psychometric abilities.
- Combatant: Easiest to play, has average ability in general, hybrid type.
- Sniper: Has the best sniping ability, and can make enemies into un
Strengthened squad command system
Project E provides a much more advanced command system than other previous games, because many users take missions together. The command system features separation of squads into different groups and target destination point on the minimap, which allows even the beginners to accomplish missions as a team if they follow the squad leaders' instructions.
Your Daily Blend of Entertainment News
Staff Writer at CinemaBlend.