Psychonauts 2 Successfully Reaches Funding Goal, Get The Details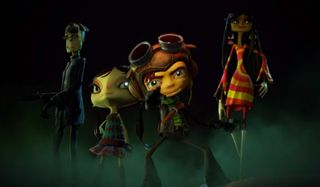 Double Fine Productions created a funding campaign on Fig to help the dream of Psychonauts 2 come alive. With four days still to go to raise funds, the project surpassed its goal of $3.3 million and currently rests at $3.4 million. Check out Double Fine Production's campaign trailer below.
Obviously, the trailer was pretty convincing. Double Fine founder, Tim Schafer, started the campaign back in December on Fig, which works slightly more different than Kickstarter, offering not only rewards to backers, but also equity. The lowest amount you can back, which is $10, offers your name in the credits and a digital PC download of the first Psychonauts game. The highest amount you can back, $10,000, gets you a camping trip to Whispering Rock for you and a friend and members of the Psychonauts development team, plus all of the aforementioned rewards. Five people have already claimed the $10,000 reward out of 10 slots. All of the $5,000 options have run out. So it's safe to say fans of Psychonauts want this game—very badly.
Psychonauts tells the story of a young boy, named Raz, with psychic powers who escapes the circus to join a summer camp for those that are like him. The camp trains psychic prodigies to become elite spies called Psychonauts, but after Raz discovers an evil plot unraveling at the camp, you can probably guess he's the only one who can save the day. Very similar to dreamy platformers like Jak and Daxter and Ratchet and Clank, Psychonauts is an action/adventure platformer with outlandish character design and a rich and playful narrative. Check out the teaser trailer for Psychonauts 2 below.
Psychonauts 2 isn't the first of Double Fine's game ideas to be successfully funded in an online campaign. You might remember a story-driven adventure game titled Broken Age that released in January of 2014. At the end of the campaign, Tim Shafer and his studio, Double Fine, had raised $3.3 million after overcoming a number of hiccups. But with the proven funding success of Broken Age, Psychonauts 2's matched success is even more proof that Double Fine knows how to work the crowdfunding market—and that's not a bad thing. Many developers have taken to crowdfunding to publish independently outside of the restraints of a major publisher.
While there has been no confirmed release date for Psychonauts 2, the rewards on Fig (which include copies of the game) are expected to ship in Fall of 2018. So, it may be awhile before anyone starts to hear any sort of official release date. If you would like to back Psychonauts 2, there are still four days left. You can do so by visiting Double Fine's campaign page. As far as we can tell, Psychonauts 2 will be releasing on Xbox One, PS4 and PC, but that could change.
Your Daily Blend of Entertainment News