Rare Wii U Amiibo Just Sold For $2,500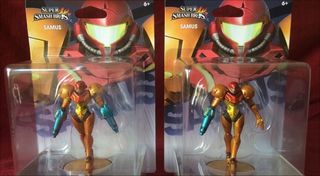 This news actually shouldn't come as too much of a surprise to anyone who has been closely following the Amiibo line from Nintendo. Why is it not surprising? Because Nintendo is expected to clean up quite well with Amiibo figurines... and enthusiast collectors might make a pretty penny in the long run, too.
One user has recently made some decent bank on a Samus Aran Amiibo via eBay... $2,500 to be exact. What made this little figurine sell for so much? Well, because it's rare.
According to the description, the Amiibo figurine is still factory sealed but has dual cannons. Yes, the figurine has dual arm cannons and that's what makes it so rare.
As the main image above shows, the standard figure only has one cannon on the arm. The special figure has two cannons; one cannon for each arm.
Since it's factory sealed there's really no telling if it has some sort of special trait or ability or if it's just designed differently for the sake of looking different. There isn't much help from the item's eBay listing, as the description reads as follows...
It's noted that it's a "defect" figure but it doesn't really look defective. It does make me question whether some Amiibos might be designed to purposefully end up with rare traits, whether it be in looks or functionality. I mean, if you had this particular figurine would it make a difference in a game like Smash Bros. for the Wii U? Perhaps, a dual-cannon Samus?
Well, whether the functionality of the figure is different from the rest of the herd or not, it managed to sell for $2,500 and that's something the original seller has to be happy about. A nice little pre-Christmas cash bonus for the holidays.
Take note that rare Amiibo figures isn't just relegated to "factory defects". The whole figurine endeavor by Nintendo has created a meta-culture that also focuses on customizing Amiibos.
While My Nintendo News previously reported that Nintendo would look into custom Amiibo figures, fans have already begun modifying the characters to suit their own tastes, as noted in an article by IGN.
For those of you who don't know, you can use Amiibos in various games with different effects. The figures are cross-game compatible; they also store data so they can be used across multiple titles. You can see how they work in the video below.
The Amiibos are currently available following the release of Super Smash Bros. for the Wii U. You can also search around eBay for custom Amiibo figurines if you're looking for something with a bit of an extra edge.
Staff Writer at CinemaBlend.