Resident Evil Revelations 2 Mod Adds Local Co-op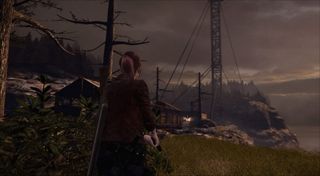 Modders said they would do it and they followed through. Resident Evil Revelations 2 on PC now has split-screen, local co-op support. Capcom had originally stated that it was never intended for the PC release, even though the feature was being tested in the backend, as evidenced through the Steam Database app's depot section.
Over on the Steam Community thread for Resident Evil Revelations 2, a post was made showing the updates for the game via the Fluffy Manager 5000, a mod manager for Resident Evil titles.
Some of the new updates includes automatically making backups of files and restoring them when a mod is uninstalled so you don't have to worry about completely reinstalling the game after adding or moving a specific, game-changing mod. This was an issue rampant with making heavy mod edits to games like Grand Theft Auto IV, where you would have to completely re-download some of the img files in order to restore the game to its original state, or if you made a backup copy of the file, which was well over 900MB.
The Fluffy Manager 5000 was also recently updated to include split-screen co-op modes for Resident Evil Revelations 2. This is also applicable to other games in the Resident Evil franchise, namely Resident Evil 5 where the game had built-in co-op on the home consoles but Capcom disabled the mode on the PC version of the game. Modders took time to re-enable the mode to allow gamers to experience the title the way it was always meant to be played.
One user named P?øρ??çy easily explains how to utilize the mod manager for the co-op mode on the PC version of the game where Capcom had stated it wasn't implemented...
That's very helpful.
Additionally, Raid mode does not work in local co-op... yet. According to FluffyQuack, the mod creator, there may be a patch later on to add support for this feature in the PC version of Resident Evil Revelations 2.
It's mentioned on the page that you will need two controllers for the co-op to work because the keyboard and mouse controls affect both players. That's not to mention that it's a real challenge to be able to open boxes without rumble.
The trainer also includes online support but only for Resident Evil 6. According to Capcom, they will be adding online co-op support for the Raid mode of Revelations 2, so Fluffy shouldn't be too hard pressed to continue doing work for Capcom.
It reminds me a lot of the case of Durante and From Software's Dark Souls situation where Durante had to fix a number of issues with the game that failed to meet the basic standards of PC gamers when it first launched.
From Software is getting better at releasing games on PC, to be fair.
Capcom? Well... they've been on a decline in recent years but maybe they'll aim to rectify that problem... or at least, one can hope. You can grab the latest mod manager from the Steam Community thread.
Your Daily Blend of Entertainment News
Staff Writer at CinemaBlend.