Dead Rising 2, Resident Evil 5 GFWL Removed, Switching To Steamworks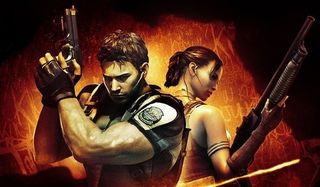 Three more games (well, more like two and a half) are joining the Steamworks platform, abandoning Games For Windows Live. Dead Rising 2, Dead Rising 2: Off the Record and Resident Evil 5 are coming off Microsoft's DRM system. This is definitely good news for gamers.
Previously it was mentioned that Games For Windows Live would be shutting down on July 1st. Microsoft was asked about this decision at the end of June and they coyly mentioned that would not be shutting down the service.
For those who don't know, a lot of games used to have their digital rights management attached to Games For Windows Live. It was supposed to work like a PC version of Xbox Live; giving gamers an opportunity to connect with friends, play online, and crossover their achievements and game score with their Xbox Live account. In theory it sounded brilliant. On paper it looked good. In practice it was atrocious.
The biggest problem with GFWL was that it just didn't really work all that well and if it had any sort of support problems, there was no way to really fix it. That's not to mention that patching through GFWL was a 50/50 chance of either having your version updated and having it break your game.
Well, even though gamers give Capcom a ton of flak, they've actually stepped up their game and they did the right thing by having GFWL patched out of three more titles, in place of implementing Steamworks.
According to EGM Now, Capcom took their Unity blog and made the following announcement regarding the switch from one DRM service to another, stating...
Many gamers had almost come to the point of thinking that Capcom had abandoned them altogether. However, it looks like Capcom is making reparation for some of their previous anti-consumer antics.
I'm not going to say that Capcom is in the full-clear here, I'm just saying that they're finally doing something right and deserve a bit of slack for that.
I'm still curious about Lost Planet 2, as it's easily one of my favorite games, but no word about whether or not GFWL will be removed.
I suppose this news was perfectly timed as Capcom is also having a Steam weekend sale on their titles. So I guess it's their way of saying "Pretty please, come back to us and play our games. We promise we'll be good."
Staff Writer at CinemaBlend.
Your Daily Blend of Entertainment News
Thank you for signing up to CinemaBlend. You will receive a verification email shortly.
There was a problem. Please refresh the page and try again.