Resident Evil Spinoff Umbrella Corps Has Been Delayed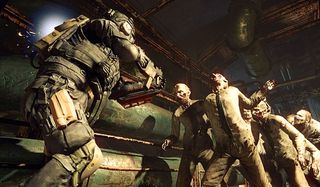 Originally slated to arrive next month, it looks like prospective agents will have to wait a bit longer to sign up for the zombie-slaying action of Umbrella Corps.
Originally planned to launch this May, Capcom today announced that Umbrella Corps needs a bit of extra time in the oven before it's ready to launch for the PlayStation 4 and PC. At present, it looks like the game is now set to hit the digital market starting June 21. But, hey, that still means you'll have the game in plenty of time to blast your way through the summer.
The announcement came in a bit incognito, actually, buried about halfway through a new post on the Capcom blog about the game's customization options.
As the post points out, the game is still planned to come in at $29.99 on both the PS4 and PC, but a few extra months are being spent in development so the "team can spend some extra time optimizing the game to bring you the best experience possible."
But, hey, at least we get a new customization trailer to help soften the blow.
For those who haven't been following Umbrella Corps up to this point, it's a spinoff shooter from the Resident Evil series. Rather than take control of the usual cast of zombie-bashing heroes, you'll instead take on the role of a member of the Umbrella Corps, an elite group of soldiers who specialize in one thing: Making the undead completely dead.
Sort of like a horde mode on acid, players will customize their own characters and then team up with other players to drop into a map and pump zombies full of lead. You'll have all kinds of nifty tools at your disposal, too, so feel free to get creative with your walker-slaying antics. Just keep in mind that there's another team on the map, too, and they're even more dangerous than the zombies. So, just like in many Resident Evil games, it's usually the people, not the undead, that will cause you the most trouble.
But why go through all this trouble if you aren't going to be stylish in the process? That's where all those new customization details come into play, which were the main focus of Capcom's recent update. From your gear to your guns, you can slap all sorts of paint jobs and decals on character to make them one of a kind. You can even crate your own emotes using a system the developers are calling I.C.O.N., combining sounds and gestures to make a celebratory dance or hilarious taunt all your own.
Staff Writer for CinemaBlend.
Your Daily Blend of Entertainment News
Thank you for signing up to CinemaBlend. You will receive a verification email shortly.
There was a problem. Please refresh the page and try again.