Resogun, Contrast, More Hits PS Plus This Week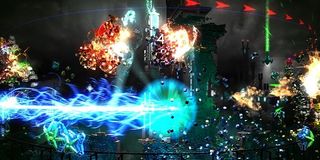 A new era for Sony's premium service, PlayStation Plus, has arrived, ushering in the era of the PlayStation 4. Along with a new PlayStation 3 game and a bunch of current gen discounts being added to the lineup this week, the first two PS4 additions to the Instant Game Collection are finally inbound, including Resogun and Contrast.
The PlayStation 4 is now just a few days away, and the gaming world is now thrumming with anticipation. A new console, new services, a new controller and, most importantly, new games. No matter what titles you bring home with your new console, though, everyone will have something to play once the PS4 launches. Last week we announced that a special promotion will come with a trial subscription of PS Plus and $10 in PSN credit packed into the box with the new console. In other words, every PS4 owner will have at least a month to experience the first two PS4 Plus titles, Resogun and Contrast.
I consider this a newfangled version of one of my most-missed aspects of consoles past. Back in the day, when you bought a new console, it typically game with a game packed right in. For the past couple of generations, you've had to pick up said game separately for the system, setting you back a few more bucks. Now you can take the PS4 home following launch and get right to playing some games without ever having to drop an extra cent. Along with free-to-play offerings like Blacklight: Retribution and Warframe, it's pretty great that everyone will have access to two brand new PS4 games right out of the box.
But don't think that the introduction of PS4 content means that Sony's current gen consoles will be left in the dust. Plus updates for the PS3 and Vita will continue as normal and, this week, that means you'll be able to get your hands on the two-player cooperative platforming puzzler, ibb & obb.
But wait, there's more! You remember how I said Warframe would be available as a free-to-play offering come day one? Well this week, Plus subscribers will have access to a special Starter Pack created especially for Plus, featuring 100 Platinum, 50,000 Credits, a Falcon Mod Pack that includes five mods for your character, a 3-day Affinity Booster and a 3-day Credit Booster. In short, this handy little package should make your first trips into Warframe that much more enjoyable.
And in case that wasn't enough, a big ole' list of special discounts are also being offered this week, including Call of Juarez: Gunslinger for just $3.75 and PlayStation All-Stars Battle Royale on the Vita for just $19.34. For the full list of discounts, and additional details on this week's Plus offerings, head on over to the PlayStation Blog.
Staff Writer for CinemaBlend.
Your Daily Blend of Entertainment News
Thank you for signing up to CinemaBlend. You will receive a verification email shortly.
There was a problem. Please refresh the page and try again.