Rise Of The Incarnates Fighting Game Gets Beta Details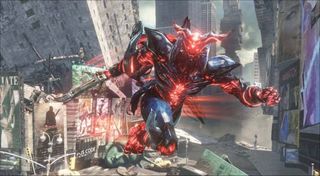 Bandai Namco games have pulled the curtain back a bit further on their latest game, Rise of the Incarnates, a free-to-play brawler that now has a closed beta scheduled for Aug. 8 through Aug. 17. And, wouldn't you know it, we just so happen to have all of the details on how you can get involved.
So far only announced for a PC launch, Rise of the Incarnates is a 2v2 fighting game that sees teams of combatants trying to work together in order to out-think and outfight the opposition. For those of you who are wary of new fighters, just know that the team behind Incarnates comes from the Soul Calibur and Tekken series, so its a safe bet that these guys and girls know what they're doing. You can see what they have in store for gamers with the trailer below.
As you might expect given the game's pedigree, the story is street-rat insane, too. The world is practically destroyed by meteors and a select few individuals are granted the ability to harness the strength of ancient gods. These people become known as Incarnates and, one day, a mysterious voice informs each of them that they must kick a whole truckload of butt if they don't want to be wiped out themselves. Think of it kind of like The Highlander, where there can be only one, and you're probably on the right track.
Anyway, Bandai Namco released the above trailer at Comicon this weekend and, with it, the announcement that a closed beta will be running from Aug. 8-17. For those curious what you'll be getting into, the developers promise "acrobatic aerial and visceral ground-based combat, brutal super-moves and power-ups, and strategic environmental manipulation." Well, that certainly sounds neat-o.
The available characters in the beta include Mephistopheles, Lilith, Grim Reaper and Ares, with Brynhildr being added to the mix on Aug. 13. The available arenas include New York and Paris, both of which have dynamic design that players can take advantage of.
"The closed beta will have a selection of in-game purchasable options available; this will allow players to try out a selection of in-game character customization options," reads the press release.
I'm not sure how I feel about purchasing anything in a beta, but maybe I'm misreading here. It could mean that a selection of items that will eventually cost money will be available in the beta to allow players to put the game through its paces. I guess we'll have to wait and see come Aug. 8.
Sound like something you want to take for a test drive? Then head on over to the official closed beta sign-up site, fill out all of the appropriate fields and wait for Aug. 8 to roll around.
Staff Writer for CinemaBlend.
Your Daily Blend of Entertainment News
Thank you for signing up to CinemaBlend. You will receive a verification email shortly.
There was a problem. Please refresh the page and try again.