Rocket League Is Getting Free Portal DLC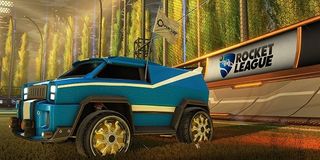 It looks like Rocket League is set to get even more free content this week, this time taking the form of a content pack that includes oodles of items pulled from the Portal universe. This is, indeed, a triumph.
The game that keeps on giving is continuing to pour on the free content as Psyonix announces that Portal cosmetic items will soon arrive within Rocket League. Starting Dec. 1, you'll be able to have more fun with science thanks to car toppers, rocket trails, antenna toppers and more.
Just like all of the free cosmetic loot in Rocket League, these Portal items can be obtained simply by playing the game. When a match concludes, you might unlock something spiffy whether you win or lose. Unlike the Halloween and upcoming Christmas promotions, however, it doesn't appear there is a window in which you'll need to play the game in order to win the prizes. It sounds like these are being patched in as permanent items that you'll eventually unlock by playing regular matches through to the end.
Here's what the Aperture Science bundle of items includes:
-Cake Topper
-Conversion Gel Rocket Trail
-Propulsion Gel Rocket Trail
-Repulsion Gel Rocket Trail
-Aperture Laboratories Antenna topper
-Cake Sticker Antenna topper
-Companion Cube Antenna topper
-Personality Core Antenna topper
-PotatOS Antenna topper
The original listing doesn't clarify if these new items will be coming to the PlayStation 4 version of Rocket League, so we'll have to wait until tomorrow to find out if people start discovering them. It would be kind of a bummer if it's limited to the Steam version of the game, though.
As mentioned above, this is only the latest bit of new content for Rocket League, a game that keeps updating with extra goodies here in the fall and winter. We've still got an apocalypse-themed paid and free update coming, as well as the hockey mode and that holiday bundle of cosmetic items I just mentioned. Again, this is the kind of support we like to see for these types of games. There's some paid stuff for folks who want to support the developer, some free stuff to keep folks coming back for more and, most importantly, nothing affect game performance and all maps/modes fall into that gratis category, meaning the community gets to stick together.
Now that we've seen a few interesting crossover promotions, which other game series would you like to see get turned into Rocket League skins and items?
Staff Writer for CinemaBlend.
Your Daily Blend of Entertainment News
Thank you for signing up to CinemaBlend. You will receive a verification email shortly.
There was a problem. Please refresh the page and try again.