Rogue Legacy Coming To PS4, PS3, Vita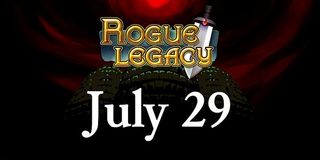 Rogue Legacy, appropriately enough, is about to be inherited by a whole new family of platforms as developer Cellar Door Games announced an impending launch on the PlayStation Vita, PlayStation 3 and PlayStation 4.
According to Cellar Door Game Designer Teddy Lee, Rogue Legacy will be bringing its tough-as-nails gameplay to the PlayStation family of consoles on July 29 as a cross-buy title. That means you can purchase the game on any of the three PS machines and go ahead and download it on the other consoles at no additional charge. Hooray for spreading the love!
In Teddy Lee's official announcement, he took a moment to give proper credit to Abstraction Games, the team responsible for porting Rogue Legacy onto the PlayStation family of consoles. Most recently, you'll know that team from their excellent 2D MOBA, Awesomenauts Assemble for the PS4 and, eventually, the Xbox One.
In case you're still somehow unfamiliar with Rogue Legacy, Lee is happy to help out.
"It's a rogue-lite game where you must conquer a magical castle which is constantly changling," he explained. "Every time you die, your children succeed you. Each child has his or her own unique genetic traits, so one child might be a near sighted wizard and another could be a flatulent ninja. So every play through is unique, right from the get-to."
And no, "rogue-lite" apparently wasn't a typo, as Lee mentions in the announcement's comments section that the game does not "adhere to all of the standard conventions of a rogue-like." Other aspects that set Rogue Legacy apart from the one try, one death genre are a leveling system that can help subsequent runs a little less daunting and a manor that players can drop funds into in order to boost the stats of future generations.
"As an added bonus, all the money you earn is passed down to your children, giving each generation a leg on the last," Lee continued. "And you'll need every edge you can get, because this game is hard."
As stated above, Rogue Legacy will be a cross buy game when it releases for PlayStation later this month. It's also a cross save game, so you can pick up and continue your adventure no matter which of the three platforms you want to play on.
The PS version of the game also includes all of the additional content that has been added to the PC version since launch, as well as a Platinum Trophy for those of you who like shiny bits of virtual praise.
Get ready to make the family proud once Rogue Legacy arrives on PlayStation July 29.
Staff Writer for CinemaBlend.
Your Daily Blend of Entertainment News
Thank you for signing up to CinemaBlend. You will receive a verification email shortly.
There was a problem. Please refresh the page and try again.