STALKER 2 Still In Development; GSC Working To Get The Game Released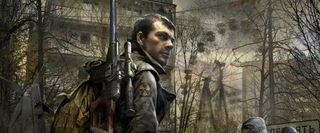 Many gamers may have spent the last few weeks worrying, crying, throwing their monitors at the wall, pulling out their hair, banging their heads against the wall until it turns bloody red, and maybe even breaking their fingers thinking that S.T.A.L.K.E.R. 2 was cancelled. Well, dear gamers, all of that stuff would have been pointless to do because GSC Game World has confirmed that S.T.A.L.K.E.R. 2 is still in development, and while it's alive (and presumably not well) it will be released.
According to OXCGN, they picked up a new tweet by the heads over at GSC Game World, whose last message was a bit dire. The updated tweet simply states that..."The Stalker team continues work on the project and hopefully everything will turn out well. Good Hunting Stalkers!"
So there you have it...despite financial troubles the team is staying dedicated to the cause and finishing up S.T.A.L.K.E.R. 2. I hope the best for them because I can't really tell you how great a game S.T.A.L.K.E.R. really is. GSC basically proves you don't need $100 million to make an open, dynamic, evolving game world that also happens to be a shooter.
As mentioned in the OXCGN article, Steam currently has a Holiday Season sale going on with the entire S.T.A.L.K.E.R. available for dirt cheap, and I agree with the OXCGN crew that the games are well worth the purchase. We'll be sure to keep you posted on anymore news regarding GSC Game World and S.T.A.L.K.E.R. 2.
Staff Writer at CinemaBlend.
Your Daily Blend of Entertainment News
Thank you for signing up to CinemaBlend. You will receive a verification email shortly.
There was a problem. Please refresh the page and try again.