See The 1989 Batmobile In Action With Batman: Arkham Knight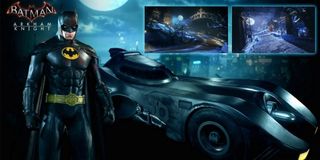 Batman: Arkham Knight is going retro with the addition of the 1989 Batmobile next week.
Rocksteady Studios put up a brand new video detailing the Batmobile, which will be available for purchase as DLC.
It's based off of the classic 1989 Tim Burton film and is a lot different than the default Arkham Knight Batmobile, and it's clear Rocksteady put a lot of time into developing it. The release of the Batmobile comes hand in hand with the rest of the special Batman: Arkham Asylum DLC available next week for both Xbox One and PlayStation 4.
The 1989 Batmobile was created with much different handling for the game, offering an alternative feel to the car than previously with the Batmobile created specifically for the game.
Players will be able to pick up the Bat-Family Skins pack as well, which'll be made available first for those who bought a season pass for Batman: Arkham Knight.
Batman: Arkham Knight is an asbolutely gorgeous game, but the PC version of the title has been having problems since release. It's still riddled with problems, and PC gamers haven't been able to purchase it for some time -- which is bad news for eager PC players looking to complete their Batman arc, at least the one branded by Rocksteady.
While the game is awaiting a patch later this month, that's still quite a large issue to still be facing this long after release, with the platform being basically unplayable. Hopefully the patch will end up resolving these major issues so everyone can play through the game, which is visually impressive, but still very much the same title we began with back when Batman: Arkham Asylum first released.
For any future Batman games, personally I'd like to see a move away from the open world design and a new, classic platforming-styled Batman adventure like we saw back in the early '90s. If done well, it could be an excellent handheld option for those interested in the mythos. A Batman-centric fighting game would be interesting as well, but only if it wasn't the entire DC Universe and instead focused mainly on the Dark Knight himself. Batman's gallery of rogues is so unique that there's plenty of fodder for different fighters, and more could be slotted in with DLC.
Playing as Batman himself and the good guys is fun and all, but why not offer a fighter with villains only? That'd be an exciting twist, especially with the sheer amount of them out there. Being a goody-goody is overrated, anyway. Batman has always been about edge and a darker side, so it's time to start exploring that more fully.
Your Daily Blend of Entertainment News
Thank you for signing up to CinemaBlend. You will receive a verification email shortly.
There was a problem. Please refresh the page and try again.