See How Well Star Wars Battlefront Did In Its First Two Months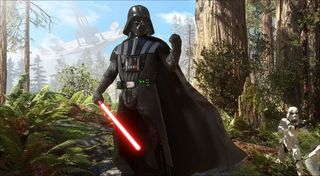 Electronic Arts and DICE's Star Wars: Battlefront has been the subject of much discussion leading up to its release, during its release, and post release. One of the topics of that discussion have been its potential sales, and it should come as no surprise that estimates already put the game at 12 million copies sold to date after it released in November, 2015.
According to IGN, the sales figure comes from Wedbush Morgan Securities analyst Michael Pachter, who told Fortune that Star Wars: Battlefront moved a total of 6 million SKUs throughout November for the Xbox One, PS4 and PC. The analyst also stated that EA and DICE's shooter moved an additional 6 million copies throughout December, bringing the total to 12 million copies, easily putting it in the same league as Activision's Call of Duty.
Revenue wise, Star Wars: Battlefront is still a ways off from Activision's blockbuster military shooter. The space shooter from a galaxy far, far away has only generated an estimated $650 million. Even still, the game's sales are very much on target to Blake Jorgensen's, the chief financial officer of EA, estimates. He stated in late October of 2015 that Star Wars: Battlefront would be on target to move 13 million units throughout fiscal 2016, which ends in March. It's not hard to imagine that at its current sales pace, EA's title will move another million SKUs to bring the total to 13 million. In fact, at its current rate it's not unlikely that it may hit 14 – 15 million by March.
This is interesting because Activision steered clear of the Star Wars license due to how expensive it is to hold. They didn't feel as if it was worth what EA paid back when they first grabbed the license for the Star Wars: The Old Republic MMO a few years back, and apparently Activision didn't feel it was worth it now. Some analysts put the license at around $100 million. So combine that with what was likely a $50 million development budget and an equally aggressive marketing campaign and EA would likely have to sell $400 million worth to return on their investment.
Given that the revenue figure is already over $650 million it's safe to say that EA made bank on Star Wars: Battlefront and the risk of paying the exorbitant fee for the Star Wars license was well worth it.
Of course, it wasn't an easy road to a big payday. There are still enough hardcore gamers out there soured on the experience due to how content sparse the game is. They find themselves quickly leaving the game behind for other, more in-depth titles.
A lot of the issues have come up from the fact that this newest game doesn't even feature half the amount of content that Star Wars: Battlefront 2 did an entire decade ago. This left a lot of enthusiasts feeling as if the $60 price tag for this new iteration for Star Wars: Battlefront was not worth it. Even still, EA has made bank and enough to pay for several $100 million projects based on the profit they've garnered from Battlefront alone.
Your Daily Blend of Entertainment News
Staff Writer at CinemaBlend.