Shadowrun Returns Devs Are Working On A New Game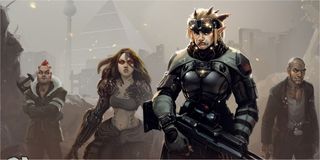 If you enjoyed Shadowrun Returns or, more appropriately, the extremely well-executed expansion pack called Dragonfall, you'll be pleased to know that there's more where those came from. Developer Harebrained Schemes appears to be hiring for a new game.
Over on the official Harebrained Schemes website, the team has a post in their job openings section, detailing work for a quality assurance tester and a game writer. Interestingly enough, under the description for a game writer, it notes the following...
So what could the next HBS title be? A new Shadowrun game? Something completely different?
Well, given the amount of time that the team has invested into Shadowrun Returns, it wouldn't be surprising if the next game is along this line. The requirements for the job description of the writer fits in line with Shadowrun lore and dialogue structures, so maybe we're looking at a true sequel? Maybe it's something completely different but reliant on the core mechanics already established within the game design pipeline they've already established? Or perhaps, they have another standalone expansion pack in mind?
The last piece of Shadowrun Returns material gamers received was the really awesome Dragonfall content from back in January, which I had the pleasure of playing and enjoying for a bit, as it seemed like a true love letter to cyberpunk fans.
Originally, Shadowrun Returns came onto the scene with a Kickstarter campaign that accrued an impressive $1.8 million in crowd-sourced funding. The game was part of the first wave of big Kickstarter games that saw gamers desperately wanting to see favorite brands and franchises resuscitated for today's generation of gaming.
Apparently the game has sold well enough via digital distribution that it's afforded Harebrained to keep coming up with new interactive gaming content based on what's already been established with the cyber-punk role-playing game.
Given the fact that there aren't a lot of isometric cyberpunk games on the market, Harebrained is probably already thinking about expanding the lore they already have with the Shadowrun property, besides we won't have any AAA cyberpunk titles on the market until Square decides to release another Deus Ex title or CD Projekt RED finally releases Cyberpunk 2077.
If you like what Harebrained Schemes has delivered with Shadowrun Returns so far, you'll definitely want to keep an eye on their future products whenever they plan to make an announcement about their new titles.
Alternatively, if you feel as if you can contribute to the cause, you can send in your application as a QA tester or as a game writer by paying a visit to the official Harebrained Schemes website. Who knows, you just might be the one who writes the next award-winning saga of the Shadowrun series.
Staff Writer at CinemaBlend.
Your Daily Blend of Entertainment News
Thank you for signing up to CinemaBlend. You will receive a verification email shortly.
There was a problem. Please refresh the page and try again.