The Sims 4 Players Get Rewards From Sims 3 Expansions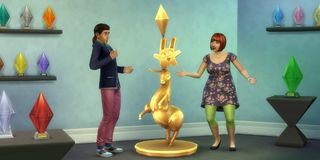 Some new owners of The Sims 4 will be getting free rewards at launch. EA revealed this weekend that they're giving out bonuses to gamers with extensive Sims 3 experience.
"Each reward object will affect your Sims' emotions and personalities in a unique way," EA says on the Sims 4 Rewards website. "We hope you enjoy your rewards in The Sims 4! You'll automatically receive your rewards in The Sims 4 the first time you jump into the game, when the game launches in September 2014. Your rewards will be waiting for you in your Build Mode catalogue when you launch The Sims 4 for the first time!"
There are 13 rewards that Sims 3 players can unlock for the sequel. Each is earned by purchasing either the base game or its expansion packs. This is the full list of unlockables, along with descriptions and the requirements for each:
Let There Be Plumbobs Award (The Sims 3 base game) - "Thanks for playing The Sims 3! Let this lamp light up your Sims' world in The Sims 4."
Never Ending Reward (World Adventures expansion) - "You're well traveled! Bask in the glow of this dynamic lamp and celebrate your many adventures."
Shine On Reward (Ambitions expansion) - "Be proud of your ambitions. You've earned this shimmering lamp in The Sims 4."
UV Light Reward (Late Night expansion) - "Congratulations! This lamp was specially designed for Sims who love the night life."
Beacon Of Ages Reward (Generations expansion) - "May your Sims be illuminated by this lamp for many generations to come."
Paws Anonymous Reward (Pets expansion) - "Only your love of animals could outshine this lamp."
Your Name In Lights Reward (Showtime expansion) - "Your Sims bask in the glow of the spotlight. Bravo!"
Enchanted Aurora Reward (Supernatural expansion) - "May this mysterious lamp intrigue your Sims in The Sims 4."
Whatever The Weather Reward (Seasons expansion) - "Commemorate seasons past with this lamp in The Sims 4."
Alma Mater Reward (University expansion) - "May your Sims' educational hijinks shine forever in The Sims 4."
Truly Tropical Reward (Island Paradise expansion) - "This incandescent reward is a happy reminder of paradise."
Time Travelers Reward (Into the Future expansion) - "This light illuminates your past travels to the future."
So yeah, if you're a devoted Sims 3 player, you'll have a crap-ton of Plumbob lamps in The Sims 4. Not all the rewards are lamps, though. If you own the base game and all 11 expansion packs, you'll unlock "The Ultimate Freezer Bunny Reward." It's a golden statue of a plumbob resting on the head of a Freezer Bunny, in turn standing on the head of a llama.
The launch of a new Sims game is a bittersweet occasion. The base game will bring some improvements but it will only feature a fraction of the content of the previous game and all of its expansion packs. It sucks that The Sims 4 players will have to buy DLC to regain the features they now take for granted in Sims 3. At least EA's giving them some small recognition for their loyalty with these rewards, though.
You'll get these rewards either by purchasing Sims 3 and its expansions on Origin, or by registering your copies. You can register all your Sims 3 products here. After doing that, go back to the Sims 4 Rewards site and log into your Origin account. Your new unlocks should show up on that site within 20 minutes of registering the products.
Staff Writer at CinemaBlend.
Your Daily Blend of Entertainment News
Thank you for signing up to CinemaBlend. You will receive a verification email shortly.
There was a problem. Please refresh the page and try again.