Skyrim Creation Kit, High-Resolution Texture Pack Released Through Steam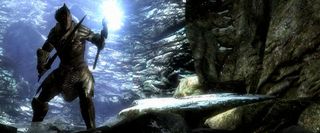 Today Bethesda released the mod tools for their open-world RPG Elder Scrolls V: Skyrim. PC gamers can download the Skyrim Creation Kit through Steam along with another special surprise.
"Mod-makers have a long history with Bethesda Game Studios, bringing to life new quests, locations and characters, as well as making changes to game from subtle tweaks to full-blown overhauls," said level designer Joel Burgess. "With the Creation Kit, the same tool we used to create Skyrim, there's almost no limit to what can be accomplished – and we're putting that power in your hands."
The Creation Kit is free to download for all Steam users. Access to the Skyrim Workshop is also free. The Workshop is an online hub for the mod community. It makes it easy for players to upload, download, and rate mods.
Remember the surprise that Bethesda was teasing for today? No, it's not a DLC announcement. It's a high-resolution texture pack, designed to make the game look even better on high-end computers.
"Before downloading it from Steam, make sure your system requirements exceed Skyrim's recommended specs before attempting to install, including a minimum of 4GB of system RAM and a DirectX 9.0c compatible NVIDIA or AMD ATI video card with at least 1 GB of RAM and the latest drivers," warns Bethesda.
It's a lot of good news for PC gamers but PS3 and Xbox 360 owners are unfortunately left twiddling their thumbs. On the bright side, Bethesda said recently that the Creation Kit could come to consoles. Also, Patch 1.4 should be making it its way to the 360 and PS3 soon and bring some much-needed fixes to the game.
Your Daily Blend of Entertainment News
Staff Writer at CinemaBlend.
Your Daily Blend of Entertainment News
Thank you for signing up to CinemaBlend. You will receive a verification email shortly.
There was a problem. Please refresh the page and try again.