Sonic Boom, Pokemon TCG Hit Nintendo This Week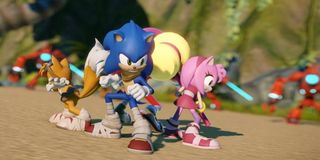 From Sonic to Batman, an old school Pokemon game to an old school Mario Kart, there's a little something for everyone in this week's batch of goodies for Nintendo consoles.
I'm getting pretty excited for Pokemon Omega Ruby/Alpha Saphire at this point, which is due to hit store shelves in just seven days. In order to help everyone gear up for the big launch, Nintendo this week released a rare back catalog game from the series, though it's not a proper entry. Pokemon Trading Card Game hit the Game Boy Color way back in the day, giving players a chance to explore the world of collectable monsters while gathering cards to bolster their collection. The GBA game was a digital take on the equally popular physical trading card game and, until now, it's been pretty tricky to find out in the wild.
Just a quick reminder that those who purchase Pokemon Trading Card Game will find a code at the bottom of their digital receipt for the Omega Ruby/Alpha Saphire demo, just in case you haven't taken that introductory offering for a test drive yet.
If, however, you prefer your critters to be colored blue and sporting snazzy sneakers, then perhaps you'll want to check out this week's two new Sonic releases instead. If you're looking to travel at breakneck speeds, then you can do exactly that with Sonic Boom: Rise of Lyric on the Nintendo Wii U or Sonic Boom: Shattered Crystal on the 3DS.
A handful of other titles are also releasing on the Wii U this week, including a virtual version of Lego Batman 3: Beyond Gotham (also releasing on the 3DS), A World of Keflings, Tengami, Xavier and a demo for Flowerworks HD: Follie's Adventure. You'll also find a few discounts on Nintendo's home console this week, including savings on Abyss, Chubbins and Bit.Trip Presents…Runner 2: Future Legend of Rhythm Alien.
Finally, there's that new/old Mario Kart game we were talking about earlier. The Wii U Virtual Console is offering up the Game Boy Advance's Mario Kart: Super Circuit, just in case that new Link DLC for Mario Kart 8 isn't taking care of all your karting needs.
The 3DS is getting some additional games, too, including Teenage Mutant Ninja Turtles: Danger of the Ooze, Tetris Ultimate, Castle Conqueror Defender, European Conqueror 3D, I've Got to Run: Complete Edition, Picross e5, Scarygirl Illustration Kit and Winx Club Saving Alfea.
As with its home console sibling, the 3DS is also sporting a few sales this week, including a launch week discount for European Conqueror 3D, as well as Darts Up 3D and Soccer Up 3D.
Staff Writer for CinemaBlend.
Your Daily Blend of Entertainment News
Thank you for signing up to CinemaBlend. You will receive a verification email shortly.
There was a problem. Please refresh the page and try again.