Sony Giving Away Bloodborne For Free To Blood Donors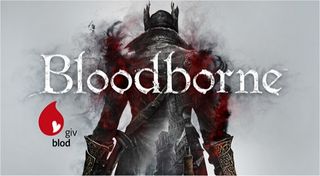 Here's an interesting way to get people to donate blood during a blood drive: give them a free video game and an opportunity to win a free PlayStation 4. That's probably music to the ears of many gamers, but there's a catch.
According to GivBlod's website, anyone donates blood – especially males, because they seem to have a shortage of male blood – will be rewarded with a copy of Bloodborne or another qualifying PlayStation game. There's even an opportunity to be entered into a sweepstakes to win a free PlayStation 4. So, what's the big catch? Well, you have to be in Denmark between now and March 23rd. Bummer.
The blood drive is taking place between 12PM and 5PM. You'll have to visit the Atrium room at IT University of Copenhagen.
Here's how GivBlod describes the event:
Even if you miss the March 23rd deadline, you can still enter to win the PS4. You just have to put "PS4" after your name on the donor list.
In a way, this partnership makes sense, given that one of the game's core elements is collecting blood as currency. Bloodborne uses the blood packs instead of cash for trading and upgrading weaponry, items, and gear. Givblod wants you to use your blood as currency to help people. Same thing, different end goals.
Bloodborne will hit shelves on March 24th, exclusively for the PlayStation 4. The game is Sony's second big AAA exclusive for 2015, following The Order 1886. Sony needs to ensure that this game can maintain enough marketing momentum to keep fans busy until E3. After that, the company will probably have to start prepping for whatever big game is have planned for this fall, since Uncharted 4 was pushed back until 2016.
As for Bloodborne, the game is set to carry the PS4 for the rest of the spring (or until Mortal Kombat X drops). If you live in Denmark, head to ITU in Copenhagen, give some blood, and get a free copy of Bloodborne (or any of the other PS4 games that are available).
For everyone else, you'll just have to pick up a copy of the game next week when it goes on sale.
Your Daily Blend of Entertainment News
Staff Writer at CinemaBlend.