Bloodborne Trailer Explores Its Dark World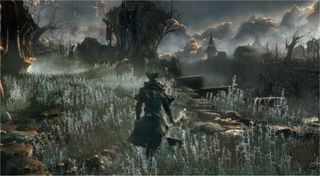 A new trailer has been released for Bloodborne, this time focusing on one of the game's more least talked about features: the locations. The newest trailer gives gamers a two minute look at the locales that they will be visiting in Bloodborne, courtesy of IGN's First Look. Check it out below.
The video gives gamers a brief look at the various dark, Gothic environments of Yharnam, a mysterious location where the player character ends up for unknown reasons. The opening few minutes of Bloodborne depicts players as being in a world unlike any other and it's up to them to figure exactly what's going on in Yharnam.
Some of the locations players will visit are towering, twisted streets where the residents of the town reside, as well as the more grotesque and unkept caves where more horrors of the world take abode.
The video doesn't really do much more than slide-show some of the environments, giving gamers tips and clues about some of the locations they'll visit, but offering little else besides that. I think that's a safe way to see it without spoiling anything for those of you out there absolutely thrilled about the game's release but are reluctant to see or hear too much about Bloodborne.
I do have a bit of a confession to make: you see, when I was seeing all the pre-release footage and gameplay of Bloodborne, I wasn't particularly thrilled with the game. In fact, it looked like a rather massive step back from what From Software accomplished with Dark Souls.
However, after seeing some more of the recent gameplay videos and witnessing non-promo footage, I found myself slowly finding elements of the game's mechanics attractive. For instance, a lot of the promo trailers are unbearably generic for Bloodborne and a lot of the developer walkthroughs have been extremely boring. But when there was just some candid gameplay footage of gamers trying to play through the opening segments and using some real skill yet still managing to fail and die, I was intrigued. The game showcased that there's a lot of skill and a lot of challenge involved in Bloodborne. This is a good thing.
Additionally, the game's death mechanic is interesting, as it's setup so that players try and try and try again, and refine how they utilize what they have to make the most of their situation.
The left and right weapon mechanic in Bloodborne has also grown on me. At first I didn't really get it, but if the weapon variety is diverse enough and if the challenge of mastering those weapons is deep enough, then it's something that could add a ton of replay value to the game.
The brief snippet of the environments above doesn't really do much for me, but after seeing the beginning of the game and getting a bit more acquainted with the trial and error setup, I can safely say that I'm certainly not as down on the game as I once was a few months ago. Yeah, people can change.
Bloodborne is due for release on March 24th, 2015, exclusively for the PS4.
Staff Writer at CinemaBlend.
Your Daily Blend of Entertainment News
Thank you for signing up to CinemaBlend. You will receive a verification email shortly.
There was a problem. Please refresh the page and try again.