Sparta: War Of Empire Launches With Cool CG Trailer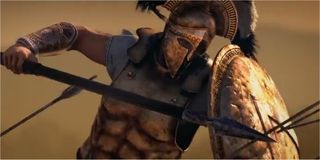 If there's one way to get people to instantly love your game, it's to release a CG trailer that looks really sexy. Add in some cool graphics, a great cinematic fight scene that required the choreographed talents of an expert fight instructor and some bloody good results that would make studio executives in Hollywood smile with dollar signs in their eyes... sort of like the trailer below.
Next up, you'll need to get people excited to play the game. You'll need to entice them following that marvelous spectacle of expensive computer generated graphics... so you drop the info on them like it's the new millennium and trip-hop is the new theme-genre for emos. You say "MMO" and "3D graphics" and you're already halfway there to keeping the audience from dozing off and clicking off onto a website promising $3,750 a month by doing what someone's non-existent aunt does that involves little more than being professionally spammed all day long.
You have someone like the CEO from a company like Plarium – namely, Avi Shalel – pump up the prominence of a press release sheet by using quote-worthy phrases like...
That quote coupled with "3D" and "MMO" starts getting people enticed; marrying those concepts with that awesome CG trailer has nearly worked, as you're probably three-quarters of the way to getting people to actually consider clicking a link placed in front of them to check out the game... a link like this one right here (opens in new tab).
But no! That's not enough, you're not there yet. There needs to be a few hooks for the skeptics, the naysayers and the jaded old-schoolers. You need to reel them in with something that might actually give more than two rat pellets about. You let them know there's AAA voice-over work to help bring the cinematic feel of the game to life, you let them know that there are hardcore gaming elements and that the title was built from the ground-up for true fans of the MMORTS genre. You drop information about city building and management and hope that it's enough to stick.
If the above only moves that finger a few inches from the keyboard and toward the mouse, but does little else to get that left-click happening on the link you dropped them, then it's time to whip out the big guns: you say that the game will be regularly updated with brand new content, you say that you can form alliances and make enemies using subtle or harsh diplomatic tactics alike, and finally, you say that the BAFTA award-winning artist, Jesper Kyd, who scored unforgettable franchises like Hitman and Assassin's Creed will be providing the soundtrack for the game.
At this point, the finger is poised; the click is ready to happen; excitement churns in the pit of the belly of the unsuspecting gamer who is now eager and keen to see if the game will live up to the hype.
Now, all you have to do is sit back, watch the sparks fly loose and provide gamers with the official website link.
Your Daily Blend of Entertainment News
Staff Writer at CinemaBlend.