Star Wars Galaxies Shuts Down For Good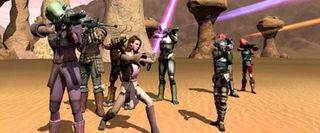 Last night Sony Online Entertainment permanently shut down the servers for Star Wars Galaxies. The MMORPG ran for over eight years in North America and Europe.
SOE decided to shut down the game because their licensing agreement with LucasArts expired. While SOE president John Smedley conceded that they could've extended the agreement, he noted that it wouldn't be the right thing for the company. The launch of Star Wars: Old Republic this week, which most likely would've siphoned off a lot of SWG players, was a major factor in SOE's decision. Also, LucasArts probably didn't want to have its old SW MMO competing with its new one.
"From my first day to the last, Star Wars Galaxies was, and will always be, a meaningful and memorable part of my life, an experience I'll treasure and share with anyone who wants to hear a good story. It has been an honor to take this journey with you, the community and all of the team members who have made Star Wars Galaxies such an awesome game," said SWG producer Tony "Teesquared" Tyson in a farewell letter to players.
"On behalf of the Star Wars Galaxies team, thank you. We have truly enjoyed getting to know you - our dedicated players - over the years. From in-game events to Fan Faires, we appreciate your continued loyalty and support. It would not have been possible without you."
Old Republic, the BioWare-developed MMORPG, is set to officially launch on Tuesday. However, the early access period for pre-order customers started earlier this week.
Your Daily Blend of Entertainment News
Staff Writer at CinemaBlend.