Star Wars: The Old Republic Same Sex Romances Arriving This Year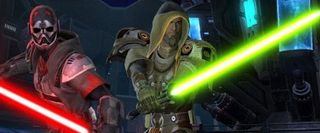 Star Wars: The Old Republic will soon allow gamers to pursue gay and lesbian romances. The new romance options will be included in the upcoming Rise of the Hutt Cartel expansion pack for the MMORPG.
"First of all, I want to apologize that this is taking so long to get in the game," SW:TOR executive producer Jeff Hickman said in a State of the Game letter to players. "I realize that we promised SGR to you guys and that many of you believed that this would be with a companion character. Unfortunately, this will take a lot more work than we realized at the time and it (like some other pieces of content we talked about earlier in the year) has been delayed as we focused on the changes required to take the game Free-to-Play."
Although same-sex romances with companions might not happen for awhile, BioWare will be adding other gay and lesbian options. Hickman says that there will be new NPCs on Makeb that you can woo. Makeb is the new planet included in the expansion pack.
Rise of the Hutt Cartel introduces new story-based missions for high-level players. In the new missions, players must stop the Hutts from becoming a galactic superpower. In the process, they'll progress toward the new level cap of 55. The expansion is due this Spring and you can get early access by pre-ordering before January 7th.
Same gender romances and high-level content are two of four major goals mentioned by Hickman in his State of the Game letter. The other two goals are revamped World PvP and character copying to the public test server. The latter feature is expected to debut later this year. The new World PvP, however, won't be out this year because BioWare is focusing on Warzones and ranked PvP at the moment.
"We're dedicated to giving you the game that YOU want to play and are making changes and improvements at a rapid pace to keep up with your desires," said Hickman. "Please keep posting and keep talking about The Old Republic. Together we will continue to care for and expand this fantastic game."
Staff Writer at CinemaBlend.
Your Daily Blend of Entertainment News
Thank you for signing up to CinemaBlend. You will receive a verification email shortly.
There was a problem. Please refresh the page and try again.