Steam Autumn Sale Arrives To Eat Your Money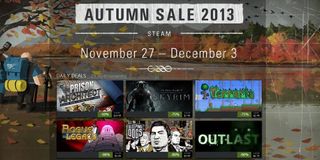 Valve wants you to replenish your Steam backlog during the long holiday weekend. They've launched the Steam Autumn Sale with deep discounts on a range of titles in their catalog.
Each day, the digital game store will offer a set of new deals. Here's what's on tap today:
The Walking Dead - $6.24
Rogue Legacy - $5.09
Antichamber - $4.99
Left 4 Dead 2 - $4.99
Outlast - $6.79
Prison Architect - $14.99
Elder Scrolls V: Skyrim - $7.49
Sleeping Dogs - $4.99
Terraria - $2.49
The 24-hour discounts are supplemented by 8-hour Flash Sales. This is the first set of deals they're offering:
Castle Story - $13.39
Crysis 2 Maximum Edition - $7.49
Hammerwatch - $3.39
Space Hulk - $10.19
If you somehow have avoided buying Skyrim up until this point, I strongly recommend that you buy it. It's one of the best RPG's and open-world games released this generation. If you own the base game but not the DLC, note that Dragonborn, Hearthfire and Dawnguard are all 50% off currently. The Legendary Edition of Skyrim, which includes the base game as well as the add-ons, is currently $20.39 (66% off).
I'd also urge you to consider The Walking Dead if you like story-driven games. Walking Dead puts a spin on the usual adventure game formula to deliver a surprisingly emotional story. Also, it's not nearly as slow or infuriating as the television show. May as well pick up the game now and get yourself ready for the impending second season.
The Autumn Sale will run until Tuesday, December 3rd. The constant rotation of deals means that there's going to be a lot of different games on sale. If you have your heart set on a specific title and it's not being discounted yet, put it on your Steam Wishlist. In your account settings, you can choose to be notified via email when your Wishlist games are on sale.
The discounts can also be accessed through the Steam mobile app available for iOS and Android. My only complaint about the app is that it makes it a little too easy to make purchases. You might be better off not downloading it if you plan to be drinking a lot during this holiday. I can attribute at least a few mobile purchases on Steam to alcohol.
Staff Writer at CinemaBlend.