Steam Summer Sale 2014 Dates Leaked?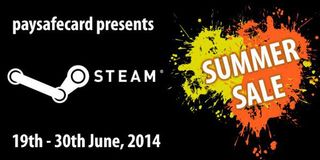 Update: The rumor turned out to be true.The Steam Summer Sale is now live.
Original article: Your wallet is about to get another beatdown. Electronic payment company Paysafecard says on their website that the 2014 Steam Summer Sale is only a week away.
According to the company's site, the Steam Summer Sale will run from June 19th to the 30th. Those dates sound plausible. It's a twelve-day period like last year's summer sale.
The dates make sense in a few other ways as well. They're after the E3 news-fest dies down when everyone realizes they've got nothing new to play. Furthermore, it's about a month before Dota 2's world championship, The International. The International 2014 runs from July 18th to the 21st. They wouldn't want to hold the Summer Sale during the International because generally Steam's servers get overloaded during any such event.
Steam Summer Sales offer discounts on a wide range of games, old and new. Some of the discounts last for the full twelve days while others are swapped out on a daily basis. Customers can even vote on what games get 8-hour discounts. It's an exciting time filled with impulse buys and regret. Sure, you didn't actually want that copy of Aliens: Colonial Marines, but it was 99 cents!
Last year's Summer Sale let players acquire ten exclusive Steam trading cards. That should be the case for 2014's sale as well. Steam users have already noticed 10 "Mysterious Trading Cards" in the Community Market. They're available in both normal and foil varieties:
In preparation for the Steam Summer Sale, Paysafecard giving away 250 PIN codes worth €10 each. They're essentially gift cards for select online purchases on Steam and other online shops. For example, you can use Paysafecard with League of Legends or DC Universe Online microtransactions.
You can enter here by providing your contact information and telling them what Steam game you hope gets a discount during the event. You need to live in either EU, USA, Canada, Turkey, Mexico or Switzerland to be eligible for the giveaway, though. Entries will be accepted until June 15th and winners will be selected on the following day.
"Entry into the competition is only possible through the paysafecard competition page," the company says. "All data provided when entering the competition will by used by paysafecard solely for the purposes of notifying the winners. No data will be passed on to third parties. paysafecard employees as well as their family members are not permitted to enter the competition."
It's worth noting that Valve hasn't confirmed these Steam Summer dates, though. If they're legit, we should get an official announcement soon though.
Staff Writer at CinemaBlend.
Your Daily Blend of Entertainment News
Thank you for signing up to CinemaBlend. You will receive a verification email shortly.
There was a problem. Please refresh the page and try again.