Super Mario Maker Will Be Compatible With Over 50 Amiibo Figures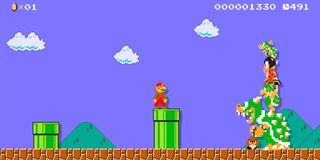 Super Mario Maker is an interesting new plaything from Nintendo that will allow you to create your very own Mario levels.
Nintendo's latest trailer showcases the game and a few more of its lesser-known features, giving an overview of the game for players who might still be a little confused as to what, exactly, you can do with it.
A new feature that I personally wasn't aware of in Super Mario Maker is the customization of sound effects and music blocks. You can create your very own sound effects in-game as well as arrange your own music using Note Blocks. If you shake a Note Block while creating a level it will then become a Music Block. Music Blocks, when activated, play different notes according to their height, like notes on a staff. This way players can create musical levels much like the features available in Mario Paint. Everyone loves Mario Paint! I know I do, anyway.
The game will also be compatible with over 50 amiibo (read: all of them, most likely.) This means rather than hoarding all of my amiibo in plastic tubs because I haven't opened them and mean to save them as part of a collection, I can open them up and actually use them. I didn't really want to use them in games prior, but with compatibility with figures like Kirby, Link, Wii Fit Trainer, and more.
The video actually does an excellent job of showing off how simple it seems as though it's going to be to create a Mario level of your own, especially with the stylus on the Wii U's Game Pad. Dragging and shaking tools is a very big part of the game, and doing this with different tools will net you certain effects, such as sound effects turning into fireworks.
You can even experiment with gigantic enemies, or create cannon launchers that fire coins. It's very bizarre at first glance, but when you realize what all you can actually do with this title, it becomes apparent that it's definitely going to change the way we all play Mario.
There are several different ways you could potentially take old Mario levels and make them new again if you were interested as well, but the fact that there are so many options in the game make it an engaging choice for me. I'm not typically one to create my own levels in anything, let alone platformers, unless it's made painfully easy for me, so I think Super Mario Maker is one game I'll actually throw my hat into the ring with.
The game will launch on September 11, along other previously-announced amiibo figures, and they'll most likely promptly sell out. Better preorder if you're interested.
Your Daily Blend of Entertainment News