Super Smash Bros Headlines Upcoming Apex Tournament In 2014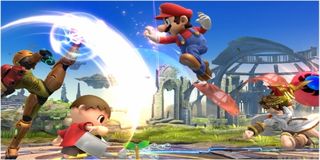 The Fighting Game Community (or FGC for short) has been making waves lately in the gaming community (for better and sometimes for worse) but today is one of those days where it's for the better. Apex Series has announced that they will be hosting a tournament next year that will bridge the gap between the FGC's greats and the FGC legends.
Previously, a press release was issued indicating that Apex would be upping their game and bringing in a new breed of fighting game blood, and hoping to reach some of the top competitors the world around when they bring the event to New Jersey next year in mid-January.
As noted in the press release...
Apex is going all out by bringing together every single Super Smash Bros. game to date, into a smorgasbord of Super Smash Bros. goodness. In fact, they're reaching deep down and even unleashing the highly praised community modded rendition of Super Smash Bros. Brawl, called Super Smash Bros. Brawl Project M, where the game has been refined and finely-tuned to suit the very stringent needs of the most ardent Smash Bros. aficionados within the Fighting Game Community.
There's also a list of all the Smash Bros. titles and additional fighting games that will be in attendance, which you can check out below.
(All games will be played on Xbox, while Smash will be played on Wii/GC/N64 respectively)
• Super Smash Bros. Brawl Singles ($15)
• Super Smash Bros. Brawl Doubles ($10 Per Person) - 128 Team Cap
• Super Smash Bros. Melee Singles ($15)
• Super Smash Bros. Melee Doubles ($10 Per Person) - 128 Team Cap
• Super Smash Bros. ($10 Per Person) - 128 Man Cap
• Project M ($10 Per Person) - 128 Man Cap
• Super Street Fighter IV Arcade Edition Version 2012 ($10)
• Ultimate Marvel vs. Capcom 3 ($10)
• The King of Fighters XIII ($10)
• Tekken Tag Tournament 2 ($10)
• Injustice – Gods Among Us ($10)
• Pokemon X/Y ($10 Per Person)
Basically all the big players will be in attendance, except for Capcom's money-grubbing DLC monster, Street Fighter X Tekken. Yeah, that game that contained a healthy dose of well over $100 worth of disc-locked content. The game that also single-handedly gave DLC a bad name... that and the Asura's Wrath ending... but that's beside the point.
Anyway, most of the top-tier fighting games that the community has endeared themselves to will be on hand at the Apex 2014 Tournament. This will also give those EVO junkies a little bit of something to hang on to while they wait for next year's tournament to roll around.
If you think you have the cajones to hang with the big boys and girls of the FGC, feel free to learn more about qualifying for the Apex 2014 Tournament over on their official website. Good luck... your thumbs will need it.
Staff Writer at CinemaBlend.
Your Daily Blend of Entertainment News
Thank you for signing up to CinemaBlend. You will receive a verification email shortly.
There was a problem. Please refresh the page and try again.