Teslagrad Bringing Electrically Charged Platforming To PS3, PS4, Wii U And More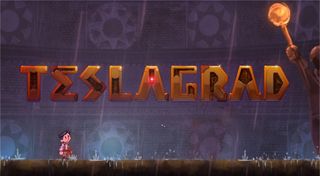 Looking for a puzzle platformer with a shocking twist? Then might I interest you in Teslagrad, coming from Rain Games and Soedesco and offering tons of puzzles that will require the player to run, sprint, magnetize and electrocute their way through in order to discover the hidden secrets of a mysterious tower.
We first heard about Teslagrad earlier this year, but now the developers at Rain Games and publisher Soedesco are revealing a few additional details, including the fact that the game will eventually be launching on the PlayStation 4, PlayStation 3, PlayStation Vita, Nintendo Wii U and a retail version for PC.
"Can you discover the secrts of the long abandoned Tesla Tower," asks Soedesco. "Teslagrad is a 2D puzzles platformer with action. Where magnetism and electromagnetic powers are gained throughout the game and must be used to overcome the game's challenges and explore the long-abandoned Tesla Tower." You can get a taste of the game with the launch trailer below.
The game is billed as being set in a steam punk version of old Europe, though it looks like electro punk might be a more apt description. While set in a 2D world, the game looks to draw inspiration from titles like BioShock in regards to aesthetics, and Portal or Rochard when it comes to mechanics. That's not to say that Teslagrad doesn't also look like a fun and unique game, just trying to find a decent reference for those of you unwilling to click the play button on the video embedded above.
According to Rain Games' Peter Wingaard Meldahl, Teslagrad is a title his studio poured a lot of love and energy into, and they're looking forward to it reaching a bigger audience than just those who are into downloading games on PC.
"This is our first release, and we are mighty proud of the reception it has gotten," he said. "To me, there is still nothing more heartwarming than seeing someone discover the mysteries of Teslagrad for the first time."
Apparently Peter hasn't seen an otter kissing a baby on the cheek, because then I think his definition of "nothing more heartwarming" might have to be adjusted.
For those of you looking to experience Teslagrad when it launches for all of those new platforms later this year, here's a quick rundown from the publisher as to what you can expect.
-Complex and innovative puzzle solving using the power of magnetism and fully functional physics.
-2D hand-drawn environments that will take you into the heart of the Tesla Tower and beyond.
-100 percent visual storytelling with a sinister plog.
-Old school boss fights requiring skill and logic to overthrow.
Look for Teslagrad on the PlayStation family of consoles, Wii U and a retail version for PC in the coming months.
Staff Writer for CinemaBlend.
Your Daily Blend of Entertainment News
Thank you for signing up to CinemaBlend. You will receive a verification email shortly.
There was a problem. Please refresh the page and try again.