Theatrhythm Final Fantasy Curtain Call Gets Collector's Edition, Pre-Order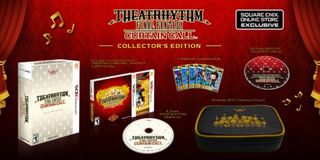 There's no denying that the Final Fantasy series has one of the most recognizable libraries of songs in the world of video games, including a main theme that has the ability to get many-a nostalgic RPG fan's to claim they "have something in their eye." All of those lovely tunes are set to be celebrated in Theatrhythm Final Fantasy Curtain Call, a new rhythm game headed to the 3DS later this year and, wouldn't you know it, you can now pre-order the game or even nab a shiny Collector's Edition.
One part RPG, one part rhythm game, all Final Fantasy, the sequel to the original Theatrhythm, Curtain Call, is set to arrive on Sept. 16 for $39.99. For those of you already planning on picking it up, you'll be happy to know that you can reserve a copy of your very own starting today, including a beefed up edition featuring additional goodies. Of course, if you're not that into collecting items that others may deem useless after taking part in the novelty of opening up the box and pulling all the extras out, you can still opt to grabbing the normal edition for a normal price.
Even still, the Collector's Edition of Theatrhythm Final Fantasy Curtain Call is limited to just 5,000 copies, so you might want to act fast if this $69.99 package sounds like your cup of tea. Along with the game itself, this edition of the game will include a branded 3DS pouch, a CD entitled "The best of Theatrhythm Final Fantasy Curtain Call", a remix CD containing five special tracks and five collectors cards featuring characters from the game. If you're looking to pin down one of those limited copies, then you better act now via the Squre Enix Online Store. That's the only place the Collector's Edition can be pre-ordered.
You can reserve the regular edition in all of the usual locations. Doing so early on will actually net you a free "Limited Edition" upgrade, which comes with that five-track remix CD we were just talking about.
"Featuring adorable miniaturized art style, Theatrhythm Final Fantasy Curtain Call includes 221 songs and over 60 playable characters from the Final FantasyFinal Fantasy events, field themes and battle arrangement. In additiona, TFFCC will feature two brand new modes, the competitive Versus Mode and Quest Medleys, which can be shared via Nintendo 3DS StreetPass."
You can actually see the game in action with a playable demo on display in the video below, giving you a clean and pristine idea of exactly what you're getting into once it does become available. Check it out below.
This technically being a Final Fantasy game, I suppose all of that content shouldn't come as such a shock, but that certainly sounds like one heck of a soundtrack to play your way through. And, if you were paying attention during the trailer above, you'll see that this latest version of Theatrhythm goes into some unexpected territory, featuring all of the core games in the series, as well as scenes from the Advent Children movies, Final Fantasy TacticsLightning Returns and even the MMO, Final Fantasy XIV: A Realm Reborn.
Your Daily Blend of Entertainment News
Staff Writer for CinemaBlend.