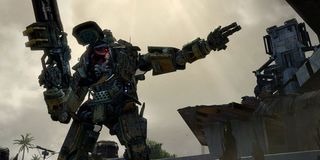 Later this month, Respawn Entertainment plans to hold a beta for their multiplayer shooter Titanfall. Here's a run-down on everything that's been announced thus far about the test.
Unfortunately, there are still some big unknowns. We'll update this article as more information is announced by Respawn and EA.
Platforms
Titanfall's beta will be held on the Xbox One and PC, the two versions being developed internally by Respawn. Bluepoint Games, the studio in charge of the Xbox 360 version, has said nothing about a beta. Considering how close we are to Titanfall's launch, it seems likely that 360 owners won't have an opportunity to test the game.
System Requirements
If you're going to play the beta on PC, here's the minimum specs that your system needs:
OS: 64-bit Windows 7, 8, 8.1
CPU: AMD Athlon X2 2.8GHz or Intel Core 2 Duo 2.4GHz
RAM: 4GB RAM
GPU: 512MB VRAM, Radeon HD 4770 or GeForce 8800GT
Additionally, Respawn's Vince Zampella says that the beta requires Origin, EA's PC gaming platform.
How To Get In
Contrary to popular belief, Titanfall's beta will not be restricted to pre-order customers. That doesn't mean that it's necessarily an open beta, though. It could be that there are other criteria to get in. For example, alpha test invites were sent out to owners of the Xbox One version of Battlefield 4.
Zampella says that he would give the beta to pre-order customers first if he could. It's possible that there could be an early access period for pre-order customers or, say, BF4 owners. Then, after a few days, the beta could be opened to everyone who wants to play. That's basically how the Battlefield 4 closed and open betas worked.
Anyway, the important thing here is that you don't need to pre-order. Don't throw down money to reserve a copy just in hope of getting a key. You can read the actual list of pre-order perks in our article from Sunday.
Sign-ups
As community manager Mathew Everett warned last week, there's no registration page for the beta yet. Any sites claiming to let you sign-up for the Titanfall beta are lying to you.
Furthermore, you should be suspicious of any emails that claim to be Titanfall beta invites. They're most likely scams to steal your personal information. If Respawn is sending out invites, they'll make an announcement through official channels like their website or social media accounts.
NDA
Respawn won't try to muzzle beta testers. There will be no restrictions on recording gameplay footage on Xbox One. Presumably that applies to the PC as well. Expect to see a lot of gameplay videos on YouTube after the test launches.
Closed alpha testers had to sign a non-disclosure agreement but it didn't work. Many players defied the NDA and posted gameplay footage anyway. Maybe this experience convinced Respawn to drop the secrecy routine and let testers share their experiences with the world.
Launch Date
Respawn unfortunately hasn't announced the start date for the beta test yet. They're currently waiting on certification from EA before they can confirm anything.
However, signs from French retailer Micromania said that it's going begin February 14th and run until the 19th. This timeframe hasn't been confirmed yet but seems plausible. Titanfall will launch in second week of March, so holding the beta a month before gives the developers enough time to make tweaks before release.
Your Daily Blend of Entertainment News
Staff Writer at CinemaBlend.