Titanfall Install, Download Size Is Huge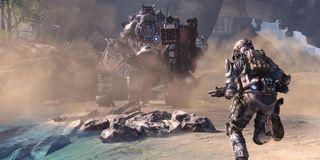 Respawn Entertainment co-founder Vince Zampella has revealed how much hard drive space you'll need for Titanfall. You might want to clear an unwanted game or two off your computer in preparation.
This makes Titanfall rather large by contemporary shooter standards. For basis of comparison, Battlefield 4 requires 30GB for the installation. Call of Duty: Ghosts needs about 40GB. It's surprising that Titanfall would be so much larger, considering the fact that it's multiplayer-only while those other games have campaigns.
It's far from the largest game out there, though. Elder Scrolls Online requires a whopping 60GB of hard drive space. You'd hope that game would be larger than Titanfall; after all, it's an MMO with full voice acting.
If you buy the digital version, you'll unfortunately have to do the full download after launch. Zampella confirmed this weekend that preloading won't be offered on any platform. That should make the physical version much more appealing to gamers.
The download and install size mentioned by Zampella today were for the PC version. He didn't confirm the Xbox One and Xbox 360 hard drive requirements. The Xbox.com listing (opens in new tab) for Titanfall says that it requires "up to 40GB" for downloading the full game.
Respawn hasn't announced the other official requirements of the PC edition yet. These were the minimum specs from the beta:
OS: 64-bit Windows 7, 8, 8.1
CPU: AMD Athlon X2 2.8GHz or Intel Core 2 Duo 2.4GHz
: 4GB RAM
: 512MB VRAM, Radeon HD 4770 or GeForce 8800GT
The PC version also requires you to install Origin.
Titanfall will launch next month on Xbox 360, PC and Xbox One. The Xbox One version will launch alongside a limited edition controller. Microsoft announced today that they're also bundling the game with the console.
Staff Writer at CinemaBlend.
Your Daily Blend of Entertainment News
Thank you for signing up to CinemaBlend. You will receive a verification email shortly.
There was a problem. Please refresh the page and try again.