True Crime Hong Kong Resurrected As Sleeping Dogs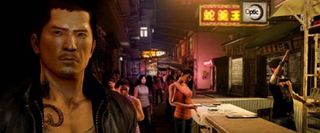 Today Square Enix announced Sleeping Dogs, an open-world cop drama set in Hong Kong. They also provided screenshots and a trailer. If the game looks familiar, that's because you've already seen it before with a different name: True Crime Hong Kong.
Activision, publisher of Hong Kong, cancelled the game in February of last year. Activision Publishing CEO Eric Hirshberg said that the game's budget grew too large due to delays. It would've needed to be a huge hit to recoup its costs, Hirshberg explained, and Activision simply didn't have faith that it would be.
However, Square Enix did see some promise in Hong Kong. In August, they swooped in to rescue the orphaned game.
"When we met the team at United Front Games, it was a done deal in our eyes," Square Enix London Studios general manager Lee Singleton said at the time. "We instantly recognized the huge potential in the game and the team. UFG is an incredibly talented team, who have individually worked on some of the biggest games in our industry, and this talent shines through from the moment you walk in the door."
The rights to the True Crime brand reside with Activision, though, so UFG had to change the title. The rest of the game sounds about the same, though. In Sleeping Dogs, players take on the role of Wei Shen, an undercover cop trying to take down the Hong Kong Triad. It's a dangerous assignment, filled with street races, shootouts, and lots of brawls.
UFG seems to be paying particular attention to fleshing out the unarmed combat. Wei Fei is experienced with martial arts and can unleash devastating combos and counters on his enemies. He'll also be able to use the environment takedowns with phone booths, refrigerator doors, and whatever else he can find.
Sleeping Dogs will be released on the PS3, Xbox 360 and PC in 2012.
Image 1 of 4
Your Daily Blend of Entertainment News
Staff Writer at CinemaBlend.
Your Daily Blend of Entertainment News
Thank you for signing up to CinemaBlend. You will receive a verification email shortly.
There was a problem. Please refresh the page and try again.