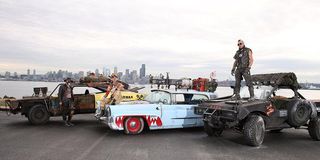 Vehicles-on-demand service Uber is promoting the Mad Max video game's upcoming release in an interesting way. Several Uber drivers in Seattle are now picking up passengers in post-apocalyptic vehicles.
Uber users in downtown Seattle found a "MAD Max" option in the mobile app this weekend. Availability permitting, they could then schedule a pick-up from a local Warboy. Here are a few images of the wasteland-ready vehicles Uber was using:
Uber certainly picked the right city for the promotion. This weekend gaming convention PAX Prime is being held in Seattle right now. It seems like a good way to get from the hotel to the convention center in style.
Even non-gamers will appreciate the ride, though, because Uber says "payment isn't required" for these trips. The only caveat is that there are only a small number of these vehicles. Furthermore, they'll only travel within the downtown Seattle area.
If you haven't hitched a ride with one of these vehicles yet, you've still got some time. Uber says that these vehicles will be picking up passengers from 10am to 6pm today and Monday as well.
This is the second video game promotion Uber has launched this week. A few days ago, they announced that they're giving away free copies of Madden 16 to customers along with Xbox Ones in cities across the country. What's more, these prize packages are being delivered by NFL players. It's unclear how much Uber is making off these promotions but it's an interesting way for them to leverage their service to make extra revenue.
Mad Max is an open-world action game developed by the creators of the Just Cause series. Players take on the role of wasteland wanderer Max in an adventure not directly based on any film. After being robbed by bandits, Max sets out on a quest for revenge. The game mixes on-foot action and vehicular combat. Over the course of the campaign, Max will upgrade his modest new car into a war machine called the Magnum Opus. The game will debut in North America and Europe on September 1st.
Your Daily Blend of Entertainment News
Staff Writer at CinemaBlend.