Uncharted 4 Multiplayer Trailer Reveals Some Surprising New Features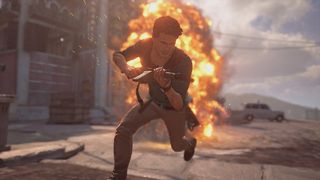 Sony showed off the first in-game footage from Uncharted 4's multiplayer today at the PlayStation press conference for Paris Games Week. The video revealed several huge additions to the usual Uncharted multiplayer.
Each Uncharted 4 player will be able to call in an A.I. sidekick to assist in battle. Each sidekick has a different set of abilities. The trailer showed a medic and sniper. There's also a grappler sidekick that charges the enemy and puts them in a headlock so you can finish them off. Presumably you choose what companion you can call through your loadout at each spawn.
Players can also rely on Mysticals, a set of supernatural abilities that can turn the tide of a battle. In the trailer, Elena turns into a human torch and zips across the battlefield with frightening speed. Drake then tosses a trinket that turns into an enormous totem that blasts every nearby enemy with deadly energy.
Uncharted has always had fast-paced, vertical multiplayer thanks to the spider monkey-like climbing skills that every player possesses. However, Uncharted 4 makes characters even more agile. They can now use grappling hooks to quickly swoop down on enemies. Players can also slide down hills, ride ziplines and free-run over obstacles.
The trailer also hints at destructible environments. At one point, Chloe is almost crushed by a large statue that topples over. I doubt we're going to see Battlefield 4 levels of destruction but a bit of demolition here and there is a nice touch. It really makes the weapon feel more powerful and makes the battle overall feel more intense.
The first playable demo for Uncharted 4 is available at the PlayStation booth at Paris Game Week. The demo will also be available at PAX Australia from October 30th to November 1st and at Lisboa Games Week from November 5th to November 8th.
Most of you probably aren't at any of these conventions, though. In that case, you'll need to wait until the multiplayer beta for Uncharted 4 running from December 4th through the 13th on PSN. Beta access will be exclusively available to owners of Uncharted: The Nathan Drake Collection.
Image 1 of 3
Your Daily Blend of Entertainment News
Staff Writer at CinemaBlend.
Your Daily Blend of Entertainment News
Thank you for signing up to CinemaBlend. You will receive a verification email shortly.
There was a problem. Please refresh the page and try again.