Uncharted's Hero Was Originally Inspired By Jackass Star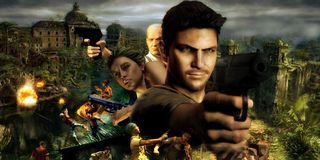 Had Naughty Dog stuck to its original plan for the Uncharted series, leading man Nathan Drake would have appeared and acted quite a bit different. How different? Well, apparently he was originally based partially on Johnny Knoxville of Jackass fame.
This news comes to us from The Verge, who recently put together an in-depth look at the original concept and pitch for Uncharted: Drake's Fortune. It features some early animations, as well as the original pitch video for the game. For folks who are interested in the games industry, the creation of a blockbuster series or just intriguing stories, it's definitely worth a full gander.
Current writer and former animation department member at Naughty Dog, Josh Scherr, provided lots of insight into the game, including the fact that he wanted to make a game that felt like Indiana Jones since he was 10 years old.
At the time, Naughty Dog was known for series like Crash Bandicoot on the original PlayStation console and Jak and Daxter on the PlayStation 2. The studio wanted to step away from cartoon mascots with their next game, leading to the creation of "Project Big," the original code name for Uncharted. That turned out to be an appropriate name, considering how ambitious Drake's Fortune turned out to be.
Along with a more realistic narrative, Naughty Dog wanted to fill their game with more relatable characters. According to Scherr, the team found their original inspiration for Nathan in Johnny Knoxville, best known for off-the-wall stunts that frequently put himself and his friends in mortal danger. It's easy to see those inspirations have stuck around a bit, though, as Nathan Drake is constantly cracking wise while leaping across chasms or punching pirates until they go to sleep.
Scherr said the character evolved further, though, when legendary voice actor Nolan North auditioned for the role.
After North nabbed the role, Drake's look and attitude was altered from the original concept, making him feel more at home in this semi-realistic world where insane events can occasionally unfold. He's still a bit of a jackass, but in the best way possible.
In case you still haven't had enough of the guy at this point, the coming year is going to be very busy for Nathan Drake. The Nathan Drake Collection is set to launch on the PS4 come Oct. 7, with Uncharted 4: A Thief's End finally arriving March 18, 2016.
Staff Writer for CinemaBlend.