WWE 2K15 DLC Is Free For Limited Time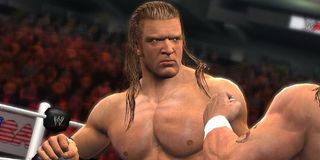 If you're unwilling to throw down money for WWE 2K15's downloadable content, 2K has a deal for you. They're giving away the game's Showcase Season Pass for a limited time.
In order to get the $25 Season Pass for free, you need to buy a copy of WWE 2K15 on Xbox One or PS4. The game runs for about $40 at stores these days, in case you're wondering. If you want to take advantage of this deal, you need to buy the game from select retailers during a narrow window of time:
US
Amazon: March 15 - 21
Best Buy: March 15 - 21
GameStop: March 18 -22
Canada
Amazon: March 22 - 28
EB Games: March 21 - 28
The Season Pass unlocks several wrestlers and arenas. The focus of the DLC is the Showcase mode, which lets players relive historic matches from WWE/WWF history. Here's a full list of the DLC you'll receive:
Playable WWE Diva Paige
Accelerator
Players will gain instant access to all unlockable content available in the game (excluding downloadable content)
2K Showcase : One More Match
Story focused on the rivalry between WWE Superstars Randy Orton and Christian in 2011
Playable WWE Superstars: Christian, Randy Orton, Edge, Mark Henry and Sheamus
Playable arenas from 2011: SmackDown, Extreme Rules, Over the Limit and Capitol Punishment
2K Showcase : Hall of Pain
Story focused on top matches for WWE Superstar Mark Henry
Playable WWE Superstars: Mark Henry, Big Show, Kane, Jey Uso, Jimmy Uso, Sheamus, The Great Khali, Randy Orton, Daniel Bryan and Ryback
Playable arenas: SmackDown (2011), Vengeance® (2011) and WrestleMania 29
2K Showcase : Path of the Warrior
Story focused on the career of WWE Hall of Famer Ultimate Warrior
Playable WWE Hall of Famers: Ultimate Warrior, Hulk Hogan, Andre the Giant and Sgt. Slaughter
Playable WWE Legends: Honky Tonk Man, Rick Rude, Macho King and Colonel Mustafa
Playable WWE Superstars: Undertaker and Hunter Hearst Helmsley
Access to WWE Hall of Fame ring announcer Howard Finkel and WWE managers Jimmy Hart, Bobby Heenan, Paul Bearer, Sherri, Sid Justice and General Adnan
Playable arenas: WrestleMania VI, VII and XII; SummerSlam® (1988, 1990 and 1991); Saturday Night's Main Event XXIV and Madison Square Garden
It would be nice if the Season Pass was also free during that window of time to people who previously bought the game on PS4 and Xbox One. That's not the case, though. Consider this just another reminder that early buyers tend to get hosed.
Your Daily Blend of Entertainment News
Staff Writer at CinemaBlend.
Your Daily Blend of Entertainment News
Thank you for signing up to CinemaBlend. You will receive a verification email shortly.
There was a problem. Please refresh the page and try again.