WWE 2K15 And NBA 2K15 Confirmed By Take-Two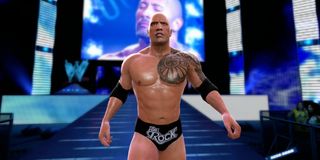 Take-Two Interactive's plans for the coming year include new WWE and NBA titles. 2K15 installments for both series were mentioned in the company's third-quarter earnings report.
NBA 2K15 seemed like a foregone conclusion. The previous chapter of the game launched this fall to stellar reviews and strong sales. Take-Two says that NBA 2K14 was the fast-selling release in the history of the series. The game has shipped over 5 million copies, thanks in part to its release on both current-gen and next-gen platforms.
WWE 2K15 will be the second WWE game released by Take-Two. The company purchased the rights from THQ in early 2013. They retained long-time series developer Yukes to handle WWE 2K14. While sales figures weren't provided for 2K14, the game was apparently successful enough for Take-Two to justify continuing the franchise.
Unlike NBA 2K14, WWE 2K14 was only released on current-gen consoles. It seems likely that the 2K15 will be available on Xbox One and PS4 as well, though.
Both WWE 2K15 and NBA 2K15 will arrive sometime in Take-Two's 2015 fiscal year, which runs from April 1st, 2014 to March 31st, 2015. Given the history of both franchises, I'd imagine the 2K15 editions will launch in the fall to take advantage of the annual holiday spending spree.
Take-Two will finish off their 2014 fiscal year with "Complete Edition" re-releases of Civilization V and X-COM: Enemy Unknown arriving on February 4th and March 4th, respectively. They're also collaborating with Bethesda on Borderlands 2/Dishonored and Skyrim/BioShock Infinite bundles coming on the 11th of this month.
Their other Fiscal 2015 release besides WWE and NBA will be Evolve, a new co-op shooter from Left 4 Dead creators Turtle Rock. Evolve will launch Xbox One, PS4, PC this fall.
Take-Two didn't mention a release date for Episode 2 of BioShock Infinite's DLC campaign Burial at Sea. It's possible it won't be out until after March 31st as well.
Staff Writer at CinemaBlend.
Your Daily Blend of Entertainment News
Thank you for signing up to CinemaBlend. You will receive a verification email shortly.
There was a problem. Please refresh the page and try again.