The Walking Dead: Michonne Finale Launch Trailer Is Heartbreaking And Terrifying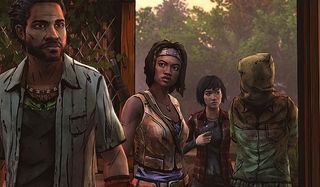 With only one final chapter left to go, it looks like things are winding down for the most recent episodic game series from Telltale, The Walking Dead: Michonne. And judging by this launch trailer for the finale, it's not going to be an ending full of sunshine and rainbows. If you haven't played the previous chapters yet, you may want to cover your eyes and ears.
As a final warning, thar be spoilers ahead, matey.
As you may recall, Michonne has been having a rather tough go of things in her slightly abbreviated solo outing from Telltale Games. Whereas series like The Walking Dead typically sport five chapters, Michonne is gearing up to present its third and final chapter in the coming days. But having a shorter runtime only means that her suffering in this world gone mad had to be condensed, with the whole shebang gearing up to come to a close in one final act.
Michonne and her remaining boat companions have found themselves in a bit of a pickle. A particularly sinister woman has threatened to dispatch a group of survivors if Michonne and Co. don't return said evil ladies equally evil brother to her unharmed.
The title of this third and final chapter is "What we deserve" so, again, it doesn't sound like Michonne is going to be all that happy with the outcome, no matter what decisions you make within the game along the way.
[[ br. ]] Michonne comes to a close across all platforms next Tuesday, April 26. You'll be able to download it automatically if you bought the full pass or pay for it piece meal if you decided to approach it from that direction instead.
As the trailer's description explains, Michonne will have to deal with decisions she's made more recently (on account of the player), as well as those decisions that were out of your control and left screaming in the past. How will the ghosts of her abandoned daughters come into play? We're guessing it's not for a warm family reunion, though a house burning around them in the trailer seems to argue to the contrary.
After this wraps up, we're not entirely sure what will be next in line for Walking Dead fans. The show wrapped up its most recent season and we've got no real details on season three for the games. Then again, Telltale is keeping themselves busy with plenty of other projects, too, including a Batman game, a game set in the Marvel universe and more. We doubt any of those upcoming projects will be quite as depressing as Michonne's run, though.
Staff Writer for CinemaBlend.