War Of Angels Closed-Beta Coming Soon To North America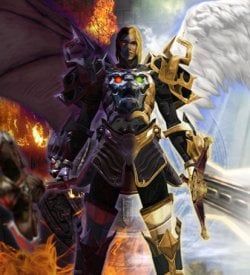 NeoWiz Games announced that their good-versus-evil MMO, War of Angels, is about to undergo closed beta testing and sign-ups are available to North American gamers. It's labeled as an epic fantasy adventure title, yet somehow I can't get Aion out of my head every time I see the game.
John Nam, chief operating officer for Neowiz Games in North America commented in the press release, saying…
At first this game didn't interest me much, but then I started reading the fact sheet and I must say, it sounds kind of awesome. There are death blows to instantly cripple opponents, and alignments are chosen based on player actions completed throughout the story mode. In other words, player-decisions will determine their final alignment (Kotor style) and the game will switch into end-game PvP mode once an alignment has been fulfilled, seeing players battle it out against each other to complete certain quests.
Guilds can also control territories and determine the economic outcome of the game world. That's pretty cool, right?
You can learn all about the game and its features by visiting the Official Website . Be sure to stay tuned in for further updates and info on the War of Angels beta.
Your Daily Blend of Entertainment News
Staff Writer at CinemaBlend.