Warhammer Online Now Free-To-Play As Shutdown Approaches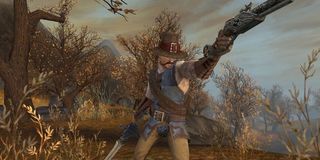 Mythic announced today that they're removing the subscription requirements for Warhammer Online: Age of Reckoning for the game's last weeks of existence. Better late than never, I guess.
"Effective immediately we will be turning off the ability to apply one month subscriptions and game time codes to Warhammer Online accounts and removing the ability to open new Warhammer Online accounts," Mythic said on their website. Anyone with an account in good standing as of October 31st will be able to play the game free of charge for its remaining days.
Mythic announced in September that Warhammer Online would be shutting down permanently on December 18th. The company attributed the upcoming shutdown to the end of their licensing deal with Warhammer creators Games Workshop. The dwindling subscriber numbers of the MMO probably didn't help matters, either. I imagine they could've paid to renew their license but it seems like the game simply wasn't pulling in enough cash to make such an extension worthwhile.
As I said when Warhammer's closure was announced, I think the game could've aged a bit more gracefully with a free-to-play business model. One of the key features of Age of Reckoning was the large-scale PvP, with the game's two factions battling for control of keeps throughout the game world. It's a feature that requires a consistent player population to really shine; after all, it's not all that fun to defend a keep if there's no army attacking it.
To their credit, Mythic did explore the F2P route. They spent a year working on a free-to-play version of the game targeted toward Asian markets. They also made a free-to-play, arena-based spin-off called Wrath of Heroes. However, those projects were ultimately scuttled along with other future plans like a mobile app and vampire-themed expansion pack. This next six weeks will be the closest that players will get to a F2P Warhammer Online.
Warhammer Online, like so many condemned MMO's before it, will hold final celebrations. If you decide to play during Warhammer Online's final days, Mythic says you'll have some new activities to look forward to.
"We will be adding new NPC's to the game in order to power up your characters as well as other unique experiences for everyone to enjoy as we say goodbye to Warhammer Online over the next few weeks. So please join us and help say goodbye to Warhammer Online in one last big WAAAGH!"
Image 1 of 3
Your Daily Blend of Entertainment News
Staff Writer at CinemaBlend.