Warhammer Online Shuts Down, Private Server Launches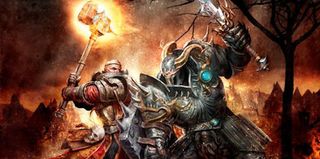 Today Mythic Entertainment officially shut down their medieval fantasy MMORPG Warhammer Online: Age of Reckoning at 6pm Eastern. The closure comes a few months after the game celebrated its fifth birthday.
Warhammer Online allowed players to join the forces of Order or Chaos. The central feature was the Realm vs. Realm multiplayer. Large groups of players battled to defend and capture keeps across the game world.
The game launched with great fanfare in September 2008. The combination of the Warhammer license, an experienced developer, and EA's deep pockets led many to believe the game could be the next big MMO. Some thought it was even capable of toppling the great World of Warcraft.
That didn't happen, though. Though the game sold 1.2 million copies in its first two weeks, the game couldn't sustain that momentum. Monthly subscribers dropped to a quarter of that total within six months. World of Warcraft, meanwhile, hit 12 million subscribers with its Wrath of the Lich King expansion two months after Warhammer Online's launch.
Mythic made numerous attempts to revitalize the game. They were working on a free-to-play version of the game as well as an expansion called Blood Hunt. Neither was released. A PVP-centric spin-off called Wrath of Heroes never made it out of beta. Eventually they ran out of time.
"We here at Mythic have built an amazing relationship working with Games Workshop creating and running Warhammer Online: Age of Reckoning over the last 8 years," Mythic said earlier this fall. "Unfortunately, as with all licensing deals they do eventually come to end and on December 18th, 2013 we will no longer be operating Warhammer Online. As such we will no longer be selling 3 month game time codes or have the ability to auto renew your accounts for 3 months as of September 18th, 2013."
Mythic stopped charging for monthly access to Warhammer Online on November 1st. Players who had game time remaining after that date are entitled to refunds, as are players with unused Game Time Cards or Game Item Codes. You can find out the full refund details through this FAQ.
In the lead-up to the shutdown, Mythic introduced new NPC's to the game to help characters power up for one last war. Order and Chaos players fought up until the end. Well, almost until the end - a player on the game forum says that they stopped fighting for the last five minutes as they waited for the game to finally shut down. A few player screenshots from the final moments are below.
Now that the official servers are down, your only option to play Warhammer Online is through a private server. One such server is currently in open beta but I can't make any guarantees about its quality. There are only about 50 players online right now so it's far from the massive war that the game's supposed to be. Plus, it's possible that EA's lawyers will swoop in and shut it down soon. If you're not ready to let go of the game just yet though, this might be your best option.
Image 1 of 5