Watch Dogs Now Available For Wii U, Two DLC Packs Coming Soon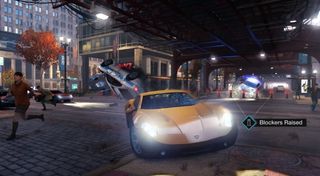 The wait is finally over and Ubisoft has released Watch Dogs for the Wii U. So was the wait worth it? Well, not according to the user reviews. However, Ubisoft has announced that they will attempt to rectify the massively-delayed Wii U port with two premium DLC packs.
So first of all, Watch Dogs is now available on the Wii U for $59.99 at local retailers. The game features Aiden Pearce going on a hack-a-thon spree in a quest to get revenge for his family and digitally troll the city of Chicago like a hate-chan hacker on a 4chan revenge spree following the mass censorship that occurred this past September.
Watch Dogs itself was a game that found itself basked in controversy well before this recent Wii U release. The biggest spill-over of gamer-rage came from a lot of the over-hyping that occurred leading up to its May release earlier this year, especially in regards to the game's graphics downgrades and forced PC parity that eventually received mod support to enable the game to look the way it did during the E3 presentations.
Well after all the hoopla over the PS4 and Xbox One versions of the game, most people questioned what happened to the Wii U version? Well, supposedly the delay was so that Ubisoft could make better use of the Wii U's hardware, but the signs of the troubled development and publishing practices by the software giant eventually made it known that Watch Dogs was likely going to bomb.
Sure enough, user reviews have already piled in for the game via Metacritic, and they point out that it still suffers from the same problems that it suffered from on the PS4 and Xbox One: it's boring.
There's a lot of 0/10 user reviews with most people agreeing that the game is "boring". One user wrote...
In an attempt to make up for the long delay, Polygon is reporting that Ubisoft did a u-turn on their initial decision not to release any DLC for the Wii U, and they will release DLC for the Wii U.
In fact, they have two DLC packs planned for Nintendo gamers. The first pack is called Conspiracy! and features a virtual mission for players to undertake as a digital trip. The second pack is called Access Granted. As mentioned on Polygon...
I guess Nintendo's 180 with the Wii U sales put some dollar-signs in the eyes of Ubisoft's executives, eh?
The game is available right now for the Wii U for $59.99; but do pay heed to the user reviews across multiple websites before diving in.
Your Daily Blend of Entertainment News
Staff Writer at CinemaBlend.